Sulman Prize 2017 education resource
By the Art Gallery of NSW
The Sir John Sulman Prize is given to the best subject painting, genre painting or mural project in oil, acrylic, watercolour or mixed media, as judged by a guest artist invited by the Art Gallery of NSW trustees. This year Tony Albert was the judge and he chose Oh history, you lied to me by Joan Ross as the winner.
Designed for school students, this education resource presents children's labels from the exhibition along with ideas for thinking about and making art inspired by some chosen finalists.
For more information and the artist statement, click on an image and view the work in the Art Gallery of NSW prizes database.
---
Joan Ross is an artist who uses drawing, painting, installation, photography, sculpture and video to investigate history. She is particularly interested in exploring ideas about colonisation and the impact this has had on Indigenous Australians. She uses her signature hi-vis colour in many of her artworks as a metaphor for colonisation.
Things to think about and make
List the objects depicted in this artwork. Describe the way this painting has been created. What choices has the artist made? What do you think she is saying about history? Research her wider art practice.
Create your own artwork with a social or political message to explore an idea that is important to you.
---
Gregory Hodge combines painting with other materials to create artworks that explore the space between reality and abstraction. This abstract painting was based on a sculpture that he made in his studio. The sculpture was a suspended structure made from different materials and was inspired by cubist artists and the Italian futurists.
Things to think about and make
List the materials you can see in this artwork.
How do you think the artist put this artwork together? How long do you think it took to create?
Research artists who were part of the cubist and Italian futurist movements. Look at examples of their work, and identify the relationship with this artwork.
Create your own suspended construction using found materials. Look at the shadows, light and positive and negative shapes. Draw and photograph your construction and combine these into another artwork using collage and found materials.
---
Michelle Cawthorn works across drawing, collage, sculpture and installation, exploring ideas around memory and recollection, and how these can change over time.
Things to think about and make
Describe the mood of this artwork. Does it remind you of someone or something you have encountered before?
What do the colours, shapes and patterns tell us about the subject of the work, who Michelle calls Eunice, but who is actually a version of the artist herself as a girl?
Create a painting based on a moment from your childhood. Think of a title that conveys the way you feel.
---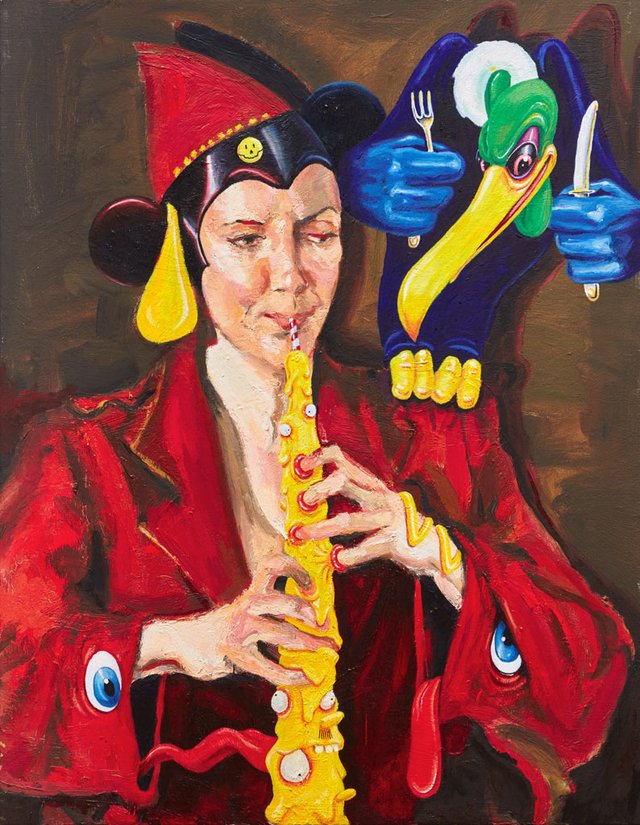 AGNSW prizes Robert Malherbe, Philjames Last waltz at the Doomsday Ball, from Sir John Sulman Prize 2017
This painting is a collaboration between two artists who have their own individual practices. Robert Malherbe often paints landscapes and people using broad brushstrokes and thick paint. Philjames appropriates published imagery in a similar way to the pop artists of the 1950s and '60s. The inclusion of strange creatures in his work is intended to surprise the viewer and make them consider the painting more closely.
Things to think about and make
How many eyes can you see in this painting?
What instrument is the musician playing? What does his hat remind you of? Describe the animal on his shoulder.
Research some pop artists from the 1950s and 60's. Choose two artists who use appropriated imagery in their practice.
Find an image of a realistic portrait or landscape. Combine it with images of cartoons or strange creatures to create a surprising collage.
---
Angela Tiatia says this artwork is about the experience of not being seen as a complete person. She observes that women of colour are not often seen in film, TV, politics and art, which means they stick out more in everyday life because they are unfamiliar.
Things to think about and make
List some of the things you can't see when you look at this painting.
Who do you think the person in this painting might be? Give reasons for your response. Why do you think she is on a stool? Describe how you would feel in the same pose.
How has the artist applied the paint? What effect does it give to the figure?
Using a piece of coloured paper and chalk pastels, draw a person disappearing into the background. Sketch the figure first in pencil then fill in only some areas to give the appearance of the figure fading away.
---