Cracking culture with Contempo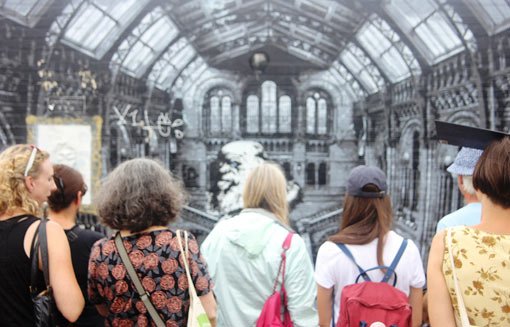 Contempo members on an Art Walk of Newtown and Enmore's street art in February 2014. Photo Andy Ryan
For many, a job may boil down to the rudimentary role of being a means to pay the bills and get you out of the house. Not for me. For the last three years I have worked with Contempo – the young members arm of the Gallery – in a role that has been a learning curve in the truest sense of the term.
While I would never be able to say that working on Contempo's creative, conversational and community-focused program of events made for a nine-to-five existence, it definitely ensured that I experienced the rare pleasure of a personal and professional life being perfectly and purposefully intertwined.
Day to day I have worked with the Contempo committee, volunteers and Gallery staff to showcase the Gallery's collection and reveal the best art and culture this city has to offer. Contempo members have been introduced to Sydney's most promising emerging artists; been privy to some of the most comprehensive art collections around town and been involved in conversations, both enlightening and entertaining, with people with all kinds of cultural interests and persuasions.
A great highlight of the role has been the sense of the privileged responsibility we all have to make a mark on Sydney's cultural landscape. Working with my creative colleagues in the Gallery and throughout Sydney, Contempo has provided Gallery members and a more general youth audience an entry point into art, ideas, lifestyles and artistic practice that they may not have even known existed before coming along to a Contempo event.
It is a proud fact that all funds raised from Contempo's explorations of Sydney's emerging art and culture go towards purchasing work for the Gallery's contemporary collection – almost 50 so far.
On Thursday 5 June 2014, Contempo will be joined by the Gallery's head curator of international art, Justin Paton, artist Nike Savvas, installation collective Optic Soup and the mixologists from Grasshopper Bar to celebrate our most recent acquisition, Nike Savvas's Rally – a colourful and immersive explosion of 60,000 strips of coloured bunting – and everyone is invited!
It might be one last hoorah for me before I hand over the reins for what I've often touted as one of the best jobs in the world, but it will be just a another top-of-the-pops event brought to you by Contempo. You can bet your bunting that I'll be keeping in touch with what's next on the cards for young art lovers at the Gallery.
Previous post: Hanging a wall of sunset colours
Next post: From first contact to cannibal tours: PNG on film

May 28 2014, 11am
by Amy Prcevich
Contempo coordinator (until June 2014)