Kimsooja in conversation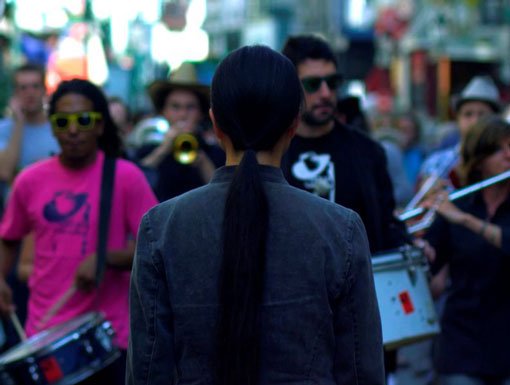 Kimsooja A needle woman 2009, video still, Art Gallery of New South Wales © Kimsooja
In the new exhibition Here we are at the Art Gallery of NSW, some of the most compelling women artists at work today consider the connections we create with others and how these connections resonate outwards through our lives.
In the 2009 video A needle woman by Kimsooja, from the Gallery's collection, the figure of the artist, seen from behind, stands still as the crowds of Paris stream around her. 'This quiet act speaks to a strength and assuredness of self, while also suggesting a search for a greater sense of belonging amid the transient forces that have come to define life in the 21st century – migratory, cosmopolitan or capitalist,' writes the exhibition's curator Lisa Catt in the catalogue.
I interviewed Kimsooja for that publication.
I want to firstly ask you about your experience being a woman in a male-dominated art world, and how that has affected you as an artist. Was your decision to become an artist supported by your family?
I always dreamt of being an artist, but the first clear message pronouncing it was when my fifth-grade elementary school teacher asked us to write about two different occupations – a painter and a philosopher were my answers. My family was supportive, giving me freedom to be an artist and two of my brothers to live as musicians.
What happened when you left Korea for the first time and travelled to countries which were more culturally diverse?
It was an eye-opening experience for me to live in New York, which can feel like a melting pot. It's a place where you can encounter many possibilities, interact with different genres, and live amongst serious artists with multicultural roots. My sensibility was opened and I was full of inspiration in response to the daily stimulation around me. I visited New York for the first time for a residency at PS1 in 1992–93, but I consider the move I made to live in New York in 1999 as a cultural exile.
Is Korea still your home or do you consider yourself as more of a global citizen?
Korea has always been a difficult country for me to deal with, emotionally, politically and practically. I know too much about the psychology of the nation and its people – it evokes a heaviness in me, rather than hope. I guess wherever families are rooted, it might feel heavy, and perhaps you have more responsibilities than joy. It was not easy to meet kind, open-minded or fair and generous people in comparison to Europe or America, and even other Asian countries. Lately, I have started to enjoy being in Korea, as it has become culturally more sophisticated, gentle. I feel more comfortable than before, when I always felt a sense of freedom and was more at home when abroad.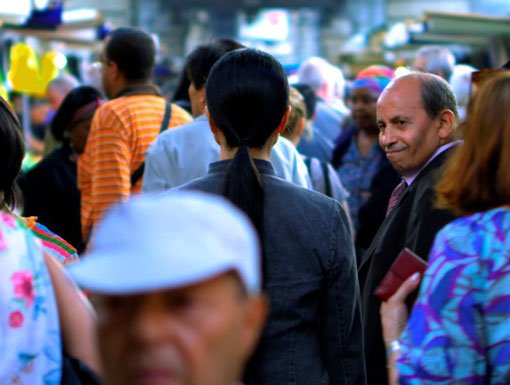 How do you feel about being involved in an exhibition that only includes women?
I don't mind being part of an exhibition that only includes women if it raises meaningful questions. I only choose not to participate when it limits or reverses the evolution of contemporary art in a particular category.
I have read that you reject being termed a feminist. Would you consider your piece to be about the politics of women's work?
One of the issues I respond to about the world is humanity, and it naturally includes both genders. I see a power structure within humanity, rather than a power structure between men and women. There are so many problems in this world, including women's rights; I can say I respect feminism as one of the many actions towards humanity, and in that sense, I can say I partake in feminism. However, as a human being, and on reflection about fundamental questions of our existence, I don't see that feminism always embraces the totality of humanity. I fully support women's equal rights in society, and they should be pronounced and corrected. Sometimes this has to be achieved by fighting against the wrong customs, misunderstanding and abuse. However, my vision as a human questions beyond, and even below, that level of protest to address issues such as poverty, slavery, war, illness and ignorance in the world.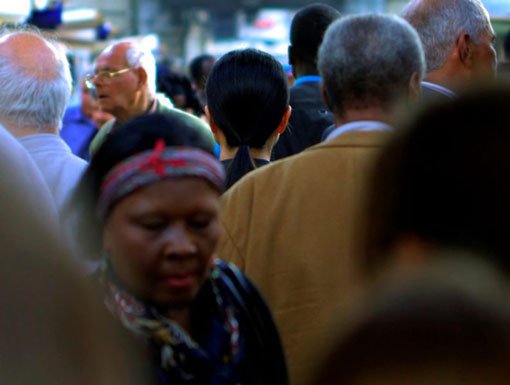 In A needle woman, you are standing still with your back to the viewer. The viewer could assume you are an Asian woman, with your long, straight black hair tied back. Are you the subject?
I didn't have any intention of being a subject, but rather a definite and relational tool of time and space to the people on the street, and to the world. It was an awakening experience when I found the location, where I had to stop and make a silent inner scream, 'This is it!'.
What was the experience you had while standing there?
The experience was beyond words, especially the first performance in Tokyo – it was a life-awakening moment, and I found a way to experience being in the world. My vulnerability on the street, standing still, alone, transformed to almost an enlightened status; looking beyond the horizon, the waves of, oceans of people, feeling empathy and overwhelming love towards the people in the world, imagining their destiny.
Why are you a needle woman in this context?
I find myself existing only as a point of view to give the audience a 'location' – like a needle that doesn't occupy the space but locates a zero point from which to look at the world. Then I disappear when the audience occupies my position, like a needle does when sewing. I consider A needle woman as a transformation of a needle from the field of fabric; a three-dimensional tableau has been inserted as a body into the reality of the world we live in.
Do you want the viewer to see or experience what you see?
Originally, I didn't intend to show the viewer what I see, but I wanted to experience being in the centre of the vortex, like the silence of a black hole. I thought it would be good if viewers see what I see.
Were there different reactions in the various countries where you produced this work? The work in this exhibition is situated in Paris, quite a multicultural place. What happened in places like Tokyo or Delhi?
The reactions of the people on the street were quite various in each city based on geography, the political situation, economy and culture; also depending on their religion, ethnicity, fashion, etc. A place like Paris, that embraces many ethnicities, is more dynamic and open-minded as an international city. This has changed since the mid '80s when I spent six months there; it felt like quite a closed society to foreigners. However, Tokyo was extremely closed in terms of the proximity of people – almost no one looked at me, being respectful to the space of others. On the contrary, people in Delhi were so unprotective of themselves, innocent and curious of the stranger. People on rickshaws were stopping in front of me to observe me and what I was doing without knowing we were filming, or paying attention to the camera. I understood that the status of a city is a combination of social, economic, cultural and political elements, like a personality. I am curious now how this has changed in the 20 years since my first performance in Tokyo.
This interview is from the publication Here we are, available from the Gallery Shop online or in store
Previous post: Making their mark
Next post: Would you wrap yourself in your best friend?

September 24 2019, 3pm
by Natalie Seiz
Curator of Asian art