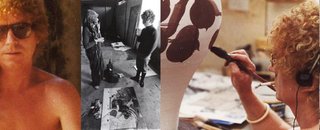 1970s
Images, left to right: Brett and Wendy Whiteley in Bali; Brett and Wendy Whiteley at the Gasworks Studio, photographer unknown; Brett Whiteley painting a ceramic work by John Dellow, photographer John Dellow; Brett Whiteley in front of Alchemy 1972-73, Greg Weight, photographer.
1970
Involved with The Yellow House artists' collective in Potts Point, Sydney, until 1972.
1971
November
Showed in group exhibition, The Bonsai Show, Australian Galleries, Melbourne.
Rented Gasworks studio in Waverton, Sydney.
1972
February
Began work on Alchemy.
Exhibited in Australian painters and tapestries of the past 20 years, New South Wales House, London.
1973
January
Completed Alchemy.
Exhibited Alchemy at Bonython Gallery, Sydney.
June
Travelled to Mauritius and Kenya.
1974
'Moved from alcohol to more serious mind altering chemicals' – quote from interview with Philip Adams.
Exhibited at The World Expo, Spokane, Washington, USA.
1975
Awarded Sir William Anglis Memorial Art Prize, Melbourne. Included in Australian painting exhibition, People's Republic of China.
Moved from Gasworks studio in Waverton to downstairs in Lavender Bay house.
1976
Archibald prize for Self-portrait in the studio (1976). Sir John Sulman Prize for Interior with time past (1976) (genre painting).
1977
Wynne Prize for The jacaranda tree (on Sydney Harbour) (1977).
March – April
In London.
August
Stayed with Joel Elenberg at Arthur Boyd's Italian house, Casa Paletaio, in Pisa.
Travelled to Venice, Florence and Rome.
1978
Archibald Prize for Art, life and the other thing (1978). Wynne Prize for Summer at Carcoar (1977). Sir John Sulman Prize for Yellow nude (1978).
Travelled to Bali in June. Spent August in New Caledonia and back to Bali in September.
Exhibited four works at Cologne International Art Fair.
1979
Joel Elenberg shared studio with Whiteley in Lavender Bay.