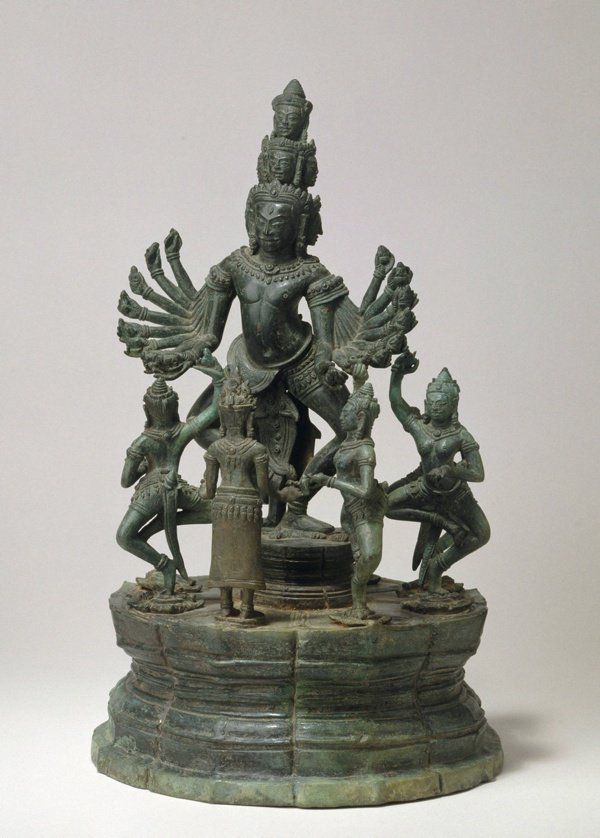 Unknown Artist
Hevajra mandala
Location

Not on display

Further information

This work is a three-dimensional mandala, or cosmic diagram, of Hevajra, who is the chief deity of the Tantric (Vajrayana) Buddhist path to enlightenment. Unlike Theravada and Mahayana Buddhism, the Tantric school believed that, with serious application and the guidance of a religious teacher, an initiate could achieve enlightenment in this life. The main exercise was meditation. While meditating, the practitioner focused all his mental energy on a deity, in this case Hevajra, thereby transferring to himself the characteristics of the deity. The cult of Hevajra flourished in Cambodia between the tenth and thirteenth centuries. Here Hevajra stands in the centre on an eight-petalled lotus surrounded by dakhinis, minor female divinities in Tantric Buddhism, and one unidentified other figure.

Asian Art Department, AGNSW, May 2011

Place of origin

Cultural origin

Khmer

Year

late 12th century

Media

Medium

bronze

Dimensions

39.0 x 23.5 cm

Signature & date

Not signed. Not dated.

Credit

Goldie Sternberg Southeast Asian Art Purchase Fund 2001

Accession number

1.2001

Provenance

Gertrude Woodtli, pre 2001, Männendorf/Switzerland
John Eskenazi, Feb 2001, London/England, purchased by the Art Gallery of New South Wales, Sydney, 2001.