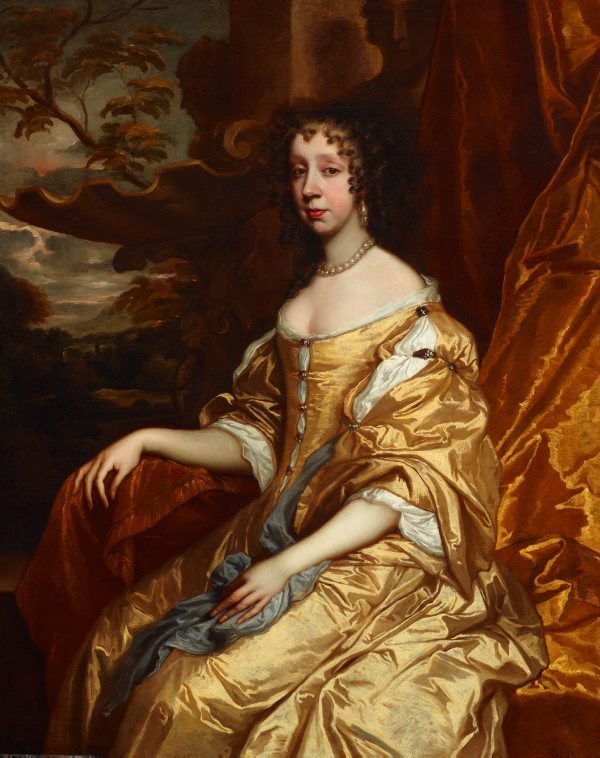 (Netherlands, England 14 Sep 1618 – 30 Nov 1680)
Portrait of a lady
Other titles:

Portrait of Dorothy Mason

Location

Further information

After Anthony van Dyck, Peter Lely was the greatest portrait painter active in England in the 17th century. Born Peter van der Faes, he was the son of a well-to-do Dutch family. He is said to have taken his name from the lily carved on the gable of a house owned by his parents. He moved to London about 1643 where he soon became a freeman of the Painter-Stainers' company. Lely probably would have become a remarkable history painter had it not been for the overwhelming demand in England for portraits. After the death of Van Dyck in 1641, Lely quickly rose to pre-eminence and attracted numerous commissions from an aristocratic, royalist clientele. He learnt from (without necessarily emulating) the example of Van Dyck. His handling of paint had a confidence and fluidity that went unrivalled. In 1661 Lely became principal painter to King Charles II and dominated the artistic life of the Restoration court, producing numerous portraits which now define our image of the age. In order to satisfy the enormous demand for his works the artist established a highly efficient studio practice, the lesser products of which have gone some way to undermine his reputation.

This painting follows in pose and setting Lely's Portrait of Princess Henrietta Anne, later Duchess of Orléans c1660 at Goodwood House in West Sussex. The Goodwood portrait is the prime version of this compositional type, which became quite popular for other sitters in the years around 1660. The background features a representation of Hubert Le Sueur's 'Diana fountain' formerly in the privy garden at Hampton Court. When the Reed picture appeared at auction in 1967 it was identified as a portrait of Dorothy Mason and was said to come from 'Asap Hall', Derbyshire – even though no such residence is recorded. This information came from the remnants of a handwritten label pasted to the back of the frame. However, it is now known that Dorothy Mason would have been too young ever to have been painted as an adult in the 1660s. Compared with other known portraits of Dorothy Mason, it is clear that the Reed picture does not depict the same sitter.

Year

circa 1660-1665?

Media

Medium

oil on canvas

Dimensions

125.0 x 100.0 cm stretcher; 144.2 x 119.0 x 6.5 cm frame

Signature & date

Not signed. Not dated.

Credit

Gift of Kenneth Reed 2019. Donated through the Australian Government's Cultural Gifts Program

Accession number

110.2019

Provenance

Private Collection, pre 15 Nov 1967, England, Sold Sotheby's London, 15 Nov 1967, no 52 (as 'A portrait of Dorothy Mason', From Asap Hall, Derbyshire) for ₤170 to G. Sherman.
G Sherman, post 15 Nov 1967, England, Purchased at the above sale for ₤170.
Private Collection, pre 15 Nov 1989, England, Sold Sotheby's London, 15 Nov 1989, no 20 ('Property of a deceased estate') for ₤28,600.
Robert Jones Fine Art Ltd, London, pre 11 Apr 1990, London/England, Acquired from them by Kenneth Reed 11 Apr 1990 for ₤65,000.