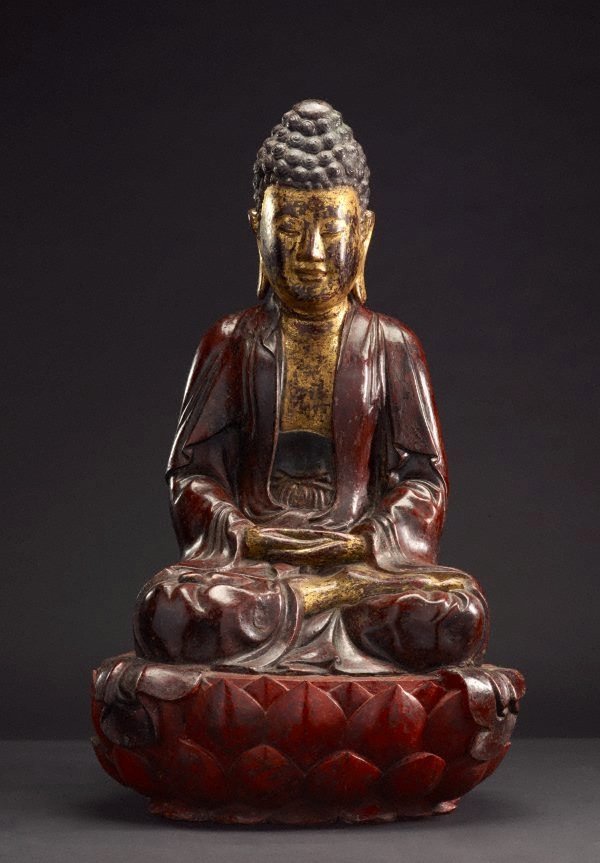 Unknown Artist
Seated Buddha
Location

Not on display

Further information

Vietnamese Buddhism, introduced into Vietnam in the 2nd century CE, is of the Mahayana school. Although often aligned with Chinese Buddhist practice, it should probably be characterised as syncretic. However, this particular piece, probably created at the time of the Mac dynasty (1527-1592) or the later Le dynasty (1428-1788), is stylistically similar to Chinese pieces of the Ming dynasty (1368-1644). The robes are Chinese in style, although the proportions of the figure reflect a Vietnamese sensitivity. The piece, characteristically covered in heavy red and gold lacquer, is stylistically typical of popular Buddhist figures found in local temples throughout Vietnam. The lacquer comes from the Vietnamese tree called Cay Son (Rhus succedanea).

Asian Art Department, AGNSW, April 2012.

Place of origin

Period

Year

early 17th century

Media

Medium

lacquer

Dimensions

70.5 x 42.0 x 26.0 cm (irreg.)

Credit

Gift of Ross and Irene Langlands in memory of George Soutter 2012

Accession number

111.2012

Provenance

Ross & Irene Langlands, 2010-Apr 2012, Sydney/New South Wales/Australia, purchased in Hanoi, Vietnam. Gift to the Art Gallery of New South Wales, Sydney, April 2012.