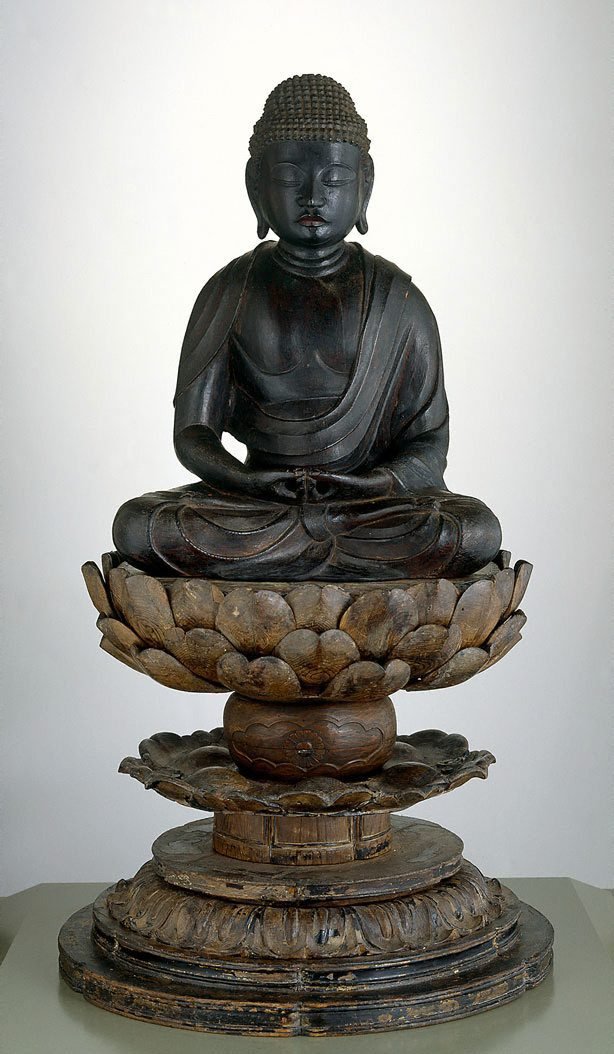 Unknown Artist
Amida Buddha
Other titles:

Seated image of Amida Buddha

Location

Further information

This classic image of the Amida Buddha echoes the qualities of formality and spiritual serenity so characteristic of the Buddhist art of Japan. The personification of eternal life, compassion and boundless light, Amida is the Buddha who reigns over the Western Paradise. He is the central deity of the Pure Land sect of Buddhism that had its foundations in the teachings of the fourth-century Chinese monk Hui Yuan, and grew to become the most popular sect of the faith in East Asia. Central to its teachings is the doctrine that for rebirth in the Pure Land nothing more than the constant invocation of the name of Amida is required. In Japan, under the inspiration of the Heian period monk Genshin (942-1017), the sect gained immense influence: not only through its promise of a passage to the Paradise, but also through Genshin's colourful descriptions of the Western Paradise and the beguiling imagery and art they stimulated. Carved from a hard, dense nutmeg wood - with that inherent feeling for the qualities of the material for which the Japanese artist and craftsman are so admired - the image conveys the peace, harmony and spiritual certainty that is the promise of the Western Paradise of Amida.

Art Gallery Handbook, 1999. pg. 268.

Place of origin

Cultural origin

Pure land sect (Japan)

Period

Year

11th century-12th century

Media

Medium

nutmeg wood with black lacquer and traces of gold leaf

Dimensions

96.8 cm :
a - figure, 53.5 x 40 cm
b - stand, 57 x 50 cm

Signature & date

Not signed. Not dated.

Credit

Purchased with assistance from W.H. Nolan Bequest Fund 1984

Accession number

119.1984.a-b

Provenance

Setsu Gatodo Co. Ltd., Fine Arts & Antiquities, Apr 1983-May 1984, Chuo-ku/Tokyo/Japan, purchased by the Art Gallery of New South Wales, Sydney, 1984.