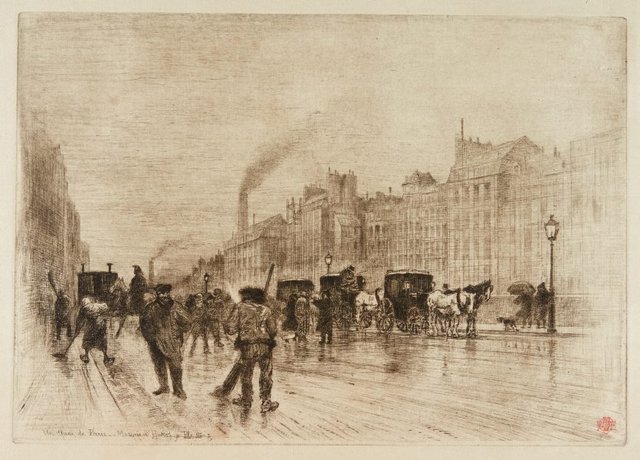 (France 09 Jul 1847 – 26 Apr 1898)
Matinée d'hiver sur les quais
Location

Not on display

Further information

This etching is a reworking of an earlier composition known as 'The Cabstand', which for many years, was Buhot's most famous image, and reproduced in virtually every book on nineteenth-century etching. After the success of the first print, Buhot decided to rework the composition for a second etching: 'Matinée d'hiver sur le quais', that tends to be darker and more atmospheric than the earlier efforts. In addition to compressing spatial relationships, Buhot populated the foreground with street cleaners, thereby adding local colour. The smoke curling up from huge smokestacks in the background suggests industrial Paris.

Year

(1883)

Media

Medium

etching, drypoint, roulette and aquatint

Dimensions

25.1 x 35.7 cm platemark

Signature & date

Not signed. Not dated.

Credit

Gift of Iphy Kallinikos 2017

Accession number

122.2017

Provenance

Annandale Galleries, 1989, Sydney/New South Wales/Australia, Anne Gregory bought the print in auction, Drouot Paris in Sept-Nov 1989 and sold it to the present owner soon after.