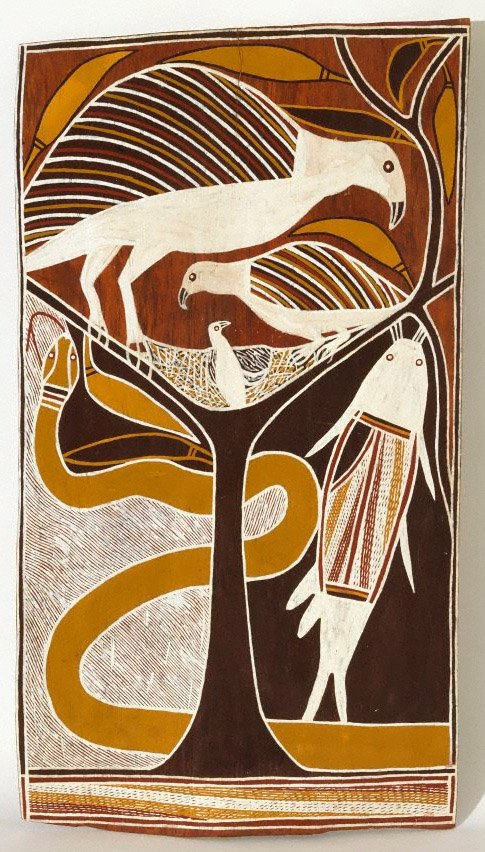 (Australia 1927 – 19 Jun 1999)
Community

Yathalamarra, Arnhem region, Ramingining, Arnhem region

Language group

Manyarrngu, Arnhem region
Dhämala Story (sea eagle, catfish and king brown snake)
Other titles:

Sea Eagle, catfish and King Brown snake

Location

Not on display

Further information

The eagle tree stands just there where the conch shell is on the eastern bank of the mouth. Coming from the bush the Damala (White bellied sea eagle) going down to the saltwater – the river mouth. This country: he grew up there because he was created there and made his families grow there – this is the right country; Dhuwa country because this is his country.

A special tree – Ngurrunyuwa. See that tree it is the wattle tree; is still there and the eagle is not an ordinary eagle, it is from that country, not from another place or another eagle, it is sitting on the important tree. She made a nest and raised the eaglets. Looking at the tide to get the fish.

The Darrpa snake (king brown) is living there too, just like family for the Damala.

[Art Centre documentation]

Place of origin

Year

1983

Media

Medium

natural pigments on eucalyptus bark

Dimensions

75.0 x 41.0 cm (irreg.)

Signature & date

Not signed. Not dated.

Credit

Purchased 1984

Accession number

134.1984

Copyright

© Malangi Estate. Licensed by Aboriginal Artists Agency Ltd, Sydney.