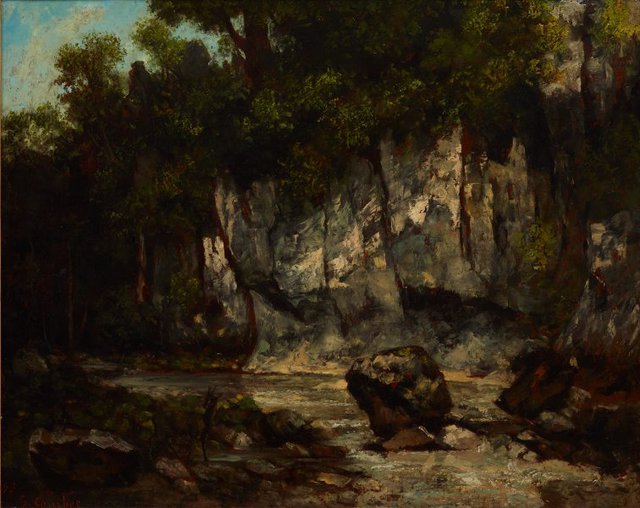 (France 10 Jun 1819 – 31 Dec 1877)
Landscape with stag
Location

Year

1873

Media

Medium

oil on canvas

Dimensions

65.5 x 81.6 cm stretcher; 81.5 x 97.5 cm frame

Signature & date

Signed and dated l.l., red oil "73/ G Courbet".

Credit

Purchased 1997

Accession number

194.1997

Provenance

Walther Halvorsen, circa 1919, Paris/France, Norwegian art dealer Walther Halvorsen bought the painting in Paris circa 1919 and sent it to Norway where it was sold to Norwegian shipowner and art collector Tryggve Sagen.
Tryggve Sagen, circa 1919-circa 1922, Norway, Shipping magnate Tryggve Sagen bought the painting from Walther Halvorsen circa 1919. When the painting was exhibition in 1923, Sagen had already sold it.
Private Collection, circa 1922-circa 1926, Oslo/Norway, Privately owned, maybe by Walther Halvorsen again.
Carl Matthiessen, circa 1926-1951, Sweden, In Carl Matthiessen's collection by 1928. See 'Konstrevy' 1928 article.
Lillie Matthiessen, 1951-post 1958, Saltsjöbaden/Sweden, Carl Matthiessen's widow. In her collection when the painting was exhibited in Stockholm in 1958.
Christie's New York, 22 May 1997, New York/New York/United States of America, Bought by the AGNSW from Christie's New York 22 May 1997, 'Barbizon, Realist and French Landscape paintings', lot 238.