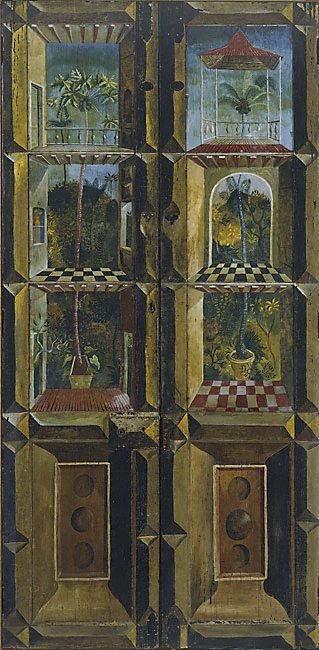 (Australia 06 Feb 1915 – 16 Aug 1989)
An exotic garden viewed at different levels
Other titles:

(An exotic garden) pair of doors

Location

Not on display

Year

(1957)

Media

Medium

oil and mixed media on pair of doors with glass panels

Dimensions

two doors: each door 183.0 x 45.0 cm; 183.0 x 90.0 cm overall; 192 cm x 96.5 cm x 16.9 cm frame :
a - left door, 183 x 45 cm, left door
b - right door, 183 x 45 cm, right door

Signature & date

Not signed. Not dated.

Credit

Purchased 1988

Accession number

198.1988.a-b

Copyright

© Reproduced with permission of the Estate of Donald Friend. Licensed by Copyright Agency.