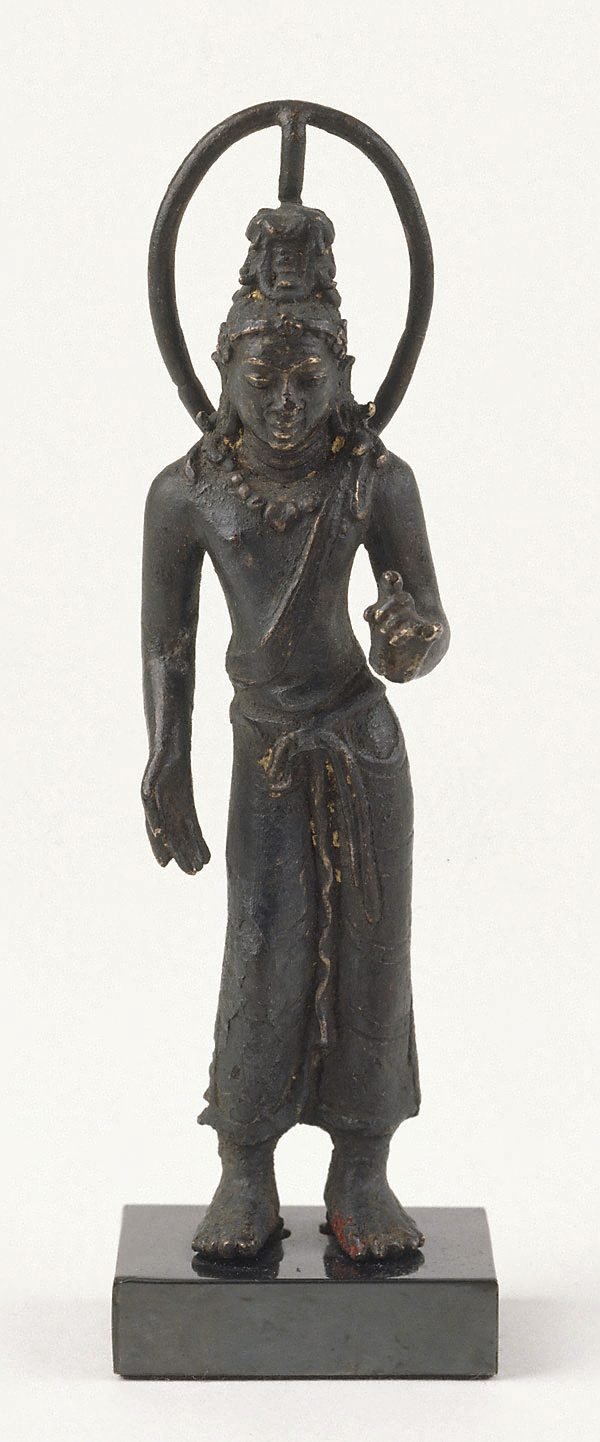 Unknown Artist
Standing Avalokiteshvara, bodhisattva of compassion
Location

Further information

The standing Avalokiteshvara is of a Central Javanese style but made of a very dark bronze. Avalokiteshvara is depicted holding a book (pustaka) in his left hand and with his right hand in 'varada mudra', the gesture of granting grace. He wears a simple sarong tied at the waist and wears little ornament except for a necklace and the sacred thread (upavita). The proportions of this figure are long and elegant and the slightly square face is crowned by a tall and distinctively styled hairdo (jatamukuta) recalling the South Indian influence.

Asian Art Department, AGNSW, 16 February 2000.

Place of origin

Period

Year

8th century

Media

Medium

copper alloy, traces of gold leaf

Dimensions

13.8 x 3.6 x 3.1 cm; 15.2 x 4.7 x 3.6 cm object with stand

Signature & date

Not signed. Not dated.

Credit

D G Wilson Bequest Fund 2000

Accession number

2.2000

Provenance

Alex Biancardi, pre Nov 1988, Sydney/New South Wales/Australia
Danny Biancardi, Nov 1988-Feb 2000, Sydney/New South Wales/Australia, by descent. Purchased by the Art Gallery of New South Wales, 2000.