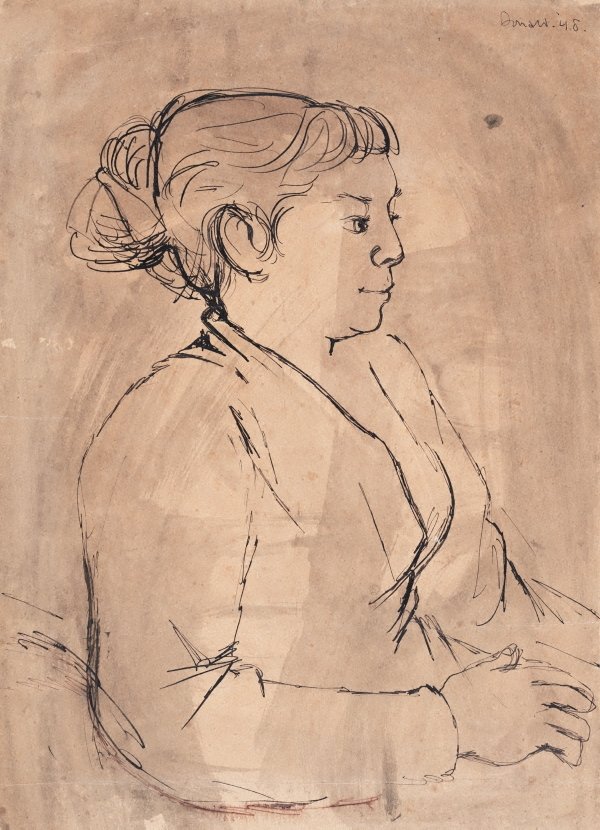 (Australia 06 Feb 1915 – 16 Aug 1989)
Margaret Olley
Other titles:

Portrait of Margaret Olley

Location

Not on display

Further information

Margaret Olley went to stay with her friend Donald Friend in Hill End, where he had bought a cottage and was working on his major piece 'Apocalypse of St John the Divine', for three weeks in May 1948. While there, they spurred each other on, working hard at painting and drawing, both in the surrounding landscape, and in the cottage. As well as being a very productive period for both of them, it also marked the deepening of their friendship, beautifully expressed in this intimate portrait by one artist, of another.

Place of origin

Year

1948

Media

Medium

pen and black ink, wash on cream wove paper laid on board

Dimensions

37.6 x 27.8 cm sheet

Signature & date

Signed and dated u.r. corner, pen and black ink "Donald. '48".

Credit

Bequest of Margaret Olley 2012

Accession number

203.2012

Copyright

© The Estate of Donald Friend. Licensed by Copyright Agency.