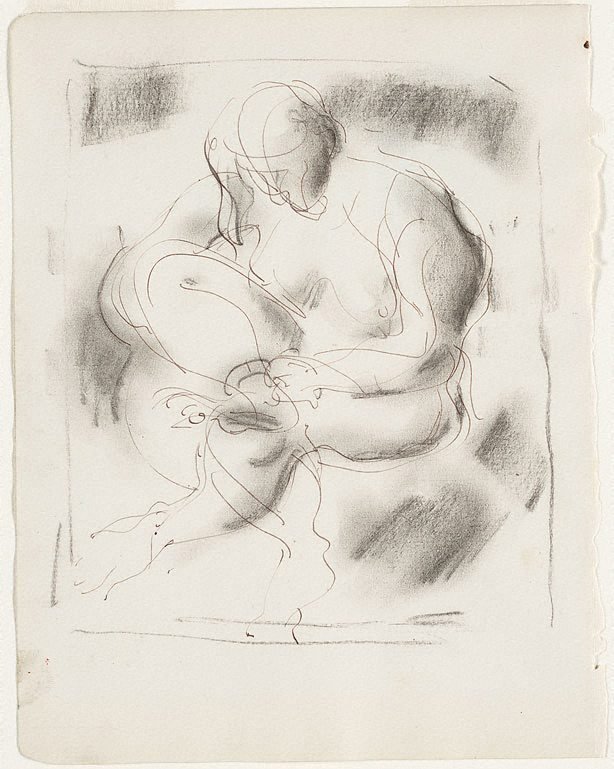 (Australia, England 24 Sep 1899 – 13 May 1970)
Study for 'Pearl'
Location

Not on display

Further information

This drawing is a study for a painting, 'Pearl' 1940, in the Gallery's collection. It dates from a significant period in the artist's career when he returned to Sydney in 1938 after nine years in London, during which him he established his reputation as a major Australian painter.

The fluid linearity of the drawing reveals Dobell's facility as a draughtsman, evoking the fleshy thighs, contented self-absorption and disheveled appearance of his subject. Drawn from life as were all Dobell's figure studies of the period, it is a lyrical and expressive precursor to the final work, revealing Dobell's creative process in the development of paintings.

© Australian Art Department, Art Gallery of New South Wales, 2007

Year

(circa 1940)

Media

Medium

pen and brown ink, charcoal on paper

Dimensions

22.7 x 17.7 cm sheet

Signature & date

Not signed. Not dated.

Credit

Purchased with funds provided by the Gil & Shay Docking Drawing Fund 2007

Accession number

250.2007

Copyright

© Courtesy Sir William Dobell Art Foundation.