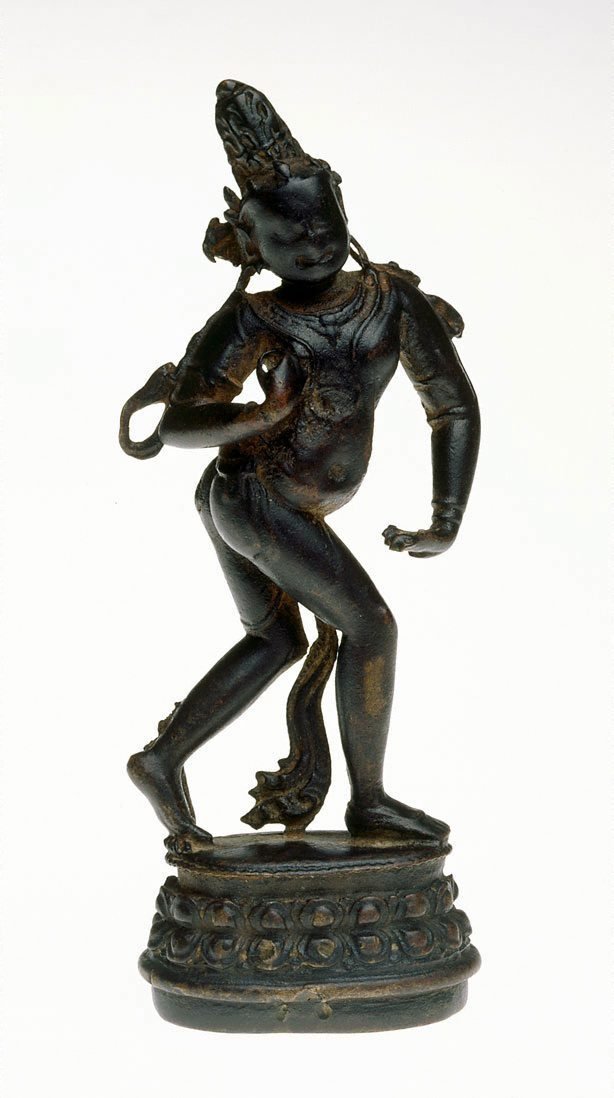 Unknown Artist
Shani, personification of the planet Saturn
Other titles:

Figure of Sani

Location

Further information

Shani (Saturn) the slow mover, is the son of the solar deity Rudra (Siva-Rudra). In this sensuous small bronze of Shani, the forward and backward thrust of the legs, the motioning of the arms and hands, and the rhythmic sideward turning of the relaxed frontal torso combine to create a graceful posture symbolic of contained energy and celestial movement. Large numbers of bronzes were produced in the Pala period, most of them for private worship.

Asian Art Department, AGNSW, October 1991

Place of origin

Period

Year

late 10th century-early 11th century

Media

Medium

copper alloy

Dimensions

14.5 cm

Signature & date

Not signed. Not dated.

Credit

Gift of the Margaret Hannah Olley Art Trust 1991

Accession number

267.1991

Provenance

Collection Beurdeley Matthews, London, 1981, London/England, as published in 'Indo-Tibetan Bronzes' by U. von Schroeder, London 1981.
Stewart Giles, pre Apr 1991, Adelaide/South Australia/Australia, purchased through Aegidea Ancient and Fine Art (art dealership), Adelaide and Brian Moore (art dealership), Sydney by Margaret Olley and donated to the Art Gallery New South Wales, Sydney, Oct 1991.