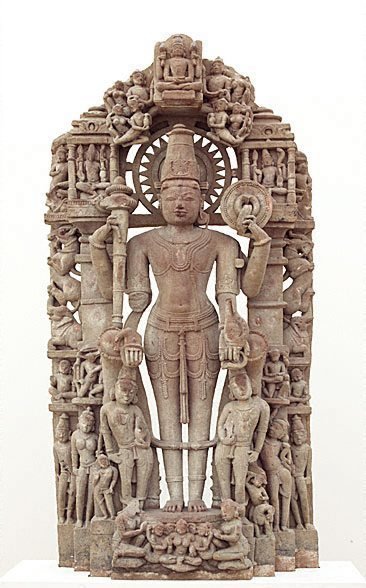 Unknown Artist
Vishnu and his avatars
Other titles:

Image of Vishnu with attendants Vahara and Narasimha

Location

Further information

Most Indian sculpture is religious, the expression of the divine in visible form. The Chandella artists who sculpted this majestic sandstone image of Vishnu, one of the most powerful and popular gods in the Hindu pantheon and the preserver of universal order, were supreme workers of stone in medieval India. Vishnu is attended on either side by his avatars or incarnations, including the boar-headed Vahara and the man-lion Narasimha. Lesser attendants and narrative detail fill the rest of the skilfully carved surface, stepped back in four planes. As usual, Vishnu is depicted standing in a full frontal pose, wearing the crown of the warrior aristocracy and with the sacred thread looped across his bare chest. In three of his four arms he holds one of his principal attributes: the mace ('gada'), discus ('chakra') and conch ('sankha'). Sometimes his fourth hand carries a lotus ('padma') but in this example his fourth hand is held in the symbolic gesture ('mudra') of boon-granting ('varada'). His bolt-upright stance identifies him with the axis of the universe, while his vertical emphasis leads the worshipper's eye upwards to the divine.

'Asian Art', AGNSW Collections, 1994, pg. 176.

Place of origin

Period

Year

11th century

Media

Medium

sandstone

Dimensions

110.0 x 55.0 x 24.5 cm; 142 kg.

Signature & date

Not signed. Not dated.

Credit

Gift of the Margaret Hannah Olley Art Trust and an anonymous donor in memory of Stewart Giles 1991

Accession number

268.1991

Provenance

Stewart Giles, Feb 1983-Apr 1991, South Australia/Australia, purchased through Aegidea Ancient and Fine Art (art dealership), Adelaide and Brian Moore (art dealership), Sydney by Margaret Olley and donated to the Art Gallery New South Wales, Sydney, Oct 1991.