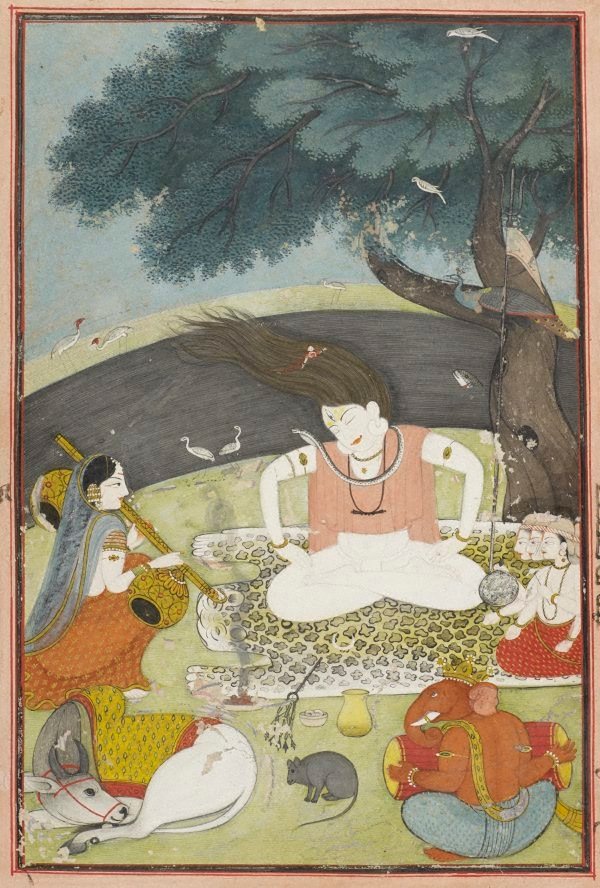 Unknown Artist
Shiva and his family
Location

Not on display

Further information

This is a family portrait of the Hindu god Shiva on Mount Kailasha. Shiva sits on a leopard skin with dishevelled hair, a sign of his ascetic practices. He is surrounded by his wife Parvati, his elephant-headed son, Ganesha, and multi-headed son, Karttikeya, who play the musical instruments vina and drums. Shiva's bull mount, Nandi, Ganesha's rat mount and Karttikeya's peacock mount relax around the group.

Place of origin

Cultural origin

Pahari, Kangra or Garhwahl (?)

Year

1780-1800

Media

Medium

opaque watercolour (gouache) on paper

Dimensions

26.0 x 19.2 cm

Credit

Gift of Dr Nigel and Mrs Norma Hawkins 2010. Donated through the Australian Government's Cultural Gifts Program

Accession number

27.2010

Provenance

Dr Nigel and Mrs Norma Hawkins, pre Feb 2010, Australia, gift to the Art Gallery of New South Wales by Dr Nigel and Mrs Norma Hawkins, Australia, 2010.