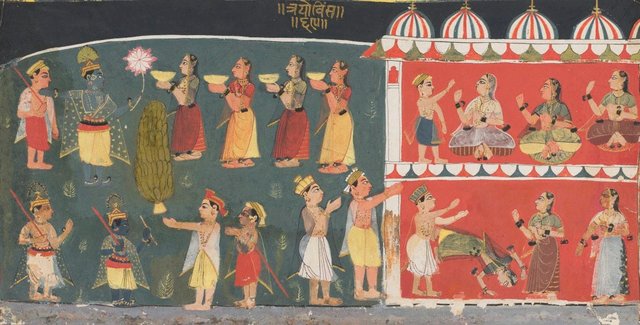 Unknown Artist
Gopis approach Krishna
Other titles:

Illustration to the Bhagavata Purana, Gopis apporach Krishna and Balarama with offerings

Location

Not on display

Place of origin

Cultural origin

Malwa

Year

late 17th century

Media

Medium

opaque watercolour on paper

Dimensions

18.5 x 34.0 cm

Credit

Gift of Dr Nigel and Mrs Norma Hawkins 2010. Donated through the Australian Government's Cultural Gifts Program

Accession number

29.2010

Provenance

Maggs Bros. Ltd., 1978-28 Feb 1979, London/England, Oriental miniatures & illuminations, lot no. 31.
Dr Nigel and Mrs Norma Hawkins, 28 Feb 1979-2010, Toronto/Ontario/Canada, moved to France early 1990s, moved to Australia late 1990s. Gift to the Art Gallery of New South Wales, Sydney, Feb 2010.