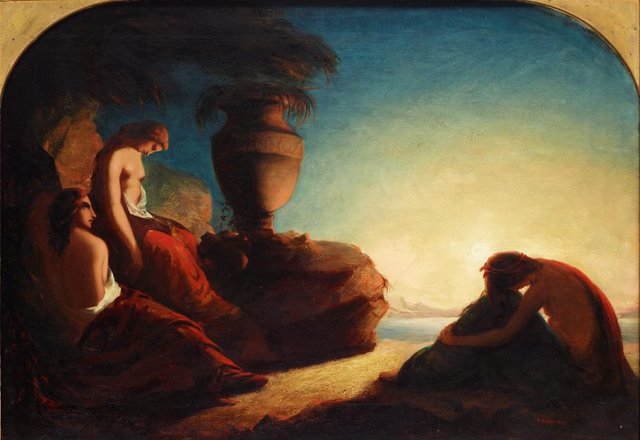 (Ireland, England 16 Nov 1793 – 09 Feb 1861)
The three sisters of Phaethon weeping over the tomb of their brother
Location

Not on display

Year

1841-1845

Media

Medium

oil on canvas

Dimensions

63.5 x 91.6 cm stretcher; 76.0 x 104.0 x 7.5 cm frame

Signature & date

Signed and dated on rock l.r, red paint "F DANBY 1845". Signed u.r., pen and black ink "...Fr Danby ARA".

Credit

Purchased 1970

Accession number

31.1971

Provenance

Jones & Cox, pre 14 Apr 1860
Christie's London, 14 Apr 1860, London/England, Offered by Jones & Cox at Christie's London, 14 Apr 1860, no 97 ('Three sisters weeping over the ashes of Phaeton'), but not sold.
R C Wilcox, pre 1939, By 1939. Consigned by him to Christie's, Jan 1939, but not entered in any sale.
Charlotte Frank, 1969-24 Jul 1970, London/England, In the collection of Charlotte Frank by 1969.
Frank Gallery, 1970, London/England, Purchased from the Frank Gallery, London, 1970.