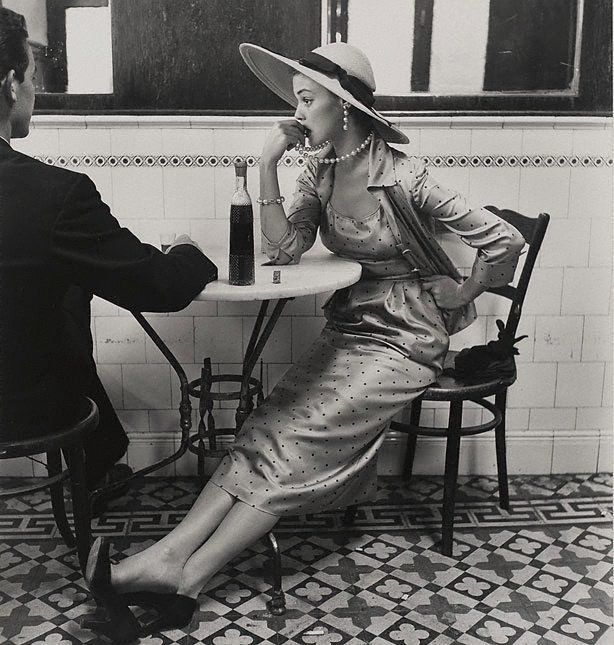 (United States of America 1917 – Oct 2009)
Vogue fashion photograph, Café in Lima, Peru (Jean Patchett)
Location

Not on display

Further information

The American Irving Penn brought a new vision to postwar fashion photography, in which simplicity and informality predominated over glamour and gloss. Enjoying a varied career as a fashion photographer, portraitist and photojournalist, Penn started as an assistant at 'Harper's Bazaar' with the legendary art director Alexey Brodovitch in 1937. In 1943 he became the assistant to Alexander Liberman, 'Vogue's' art director, and photographed his first cover – a still-life – for the magazine. His first fashion photograph followed in 1944.

The photograph of model Jean Patchett waiting pensively in a Lima café appeared in the 15 February 1949 issue of 'Vogue'. It was part of a photo-spread called 'Flying down to Lima' which incorporated fashion into a romantic travelogue as lived by the model. This fashion 'story' was to be the only one Penn would shoot entirely on location. After this he preferred to work with a simple studio backdrop, as in his landmark photographs of the Paris collections in 1950.

As part of the postwar trend towards showing gritty, real life rather than the lavish fantasies of the pre-war studio, Patchett was photographed with street urchins, in shoeshine stands, massaging her tired feet or killing time in a café. The clothes she modelled were made from 'Vogue' patterns, rather than haute couture, and so were attainable for the average woman. Penn photographed everyday fashions in everyday situations, and in him, as Alexander Liberman put it, 'American fashion and the now liberated American woman had found their photographer'. 1

1. Liberman A 1971, 'An American modern', 'Irving Penn: passage - a work record', Alfred A Knopf, New York p 7

© Art Gallery of New South Wales Photography Collection Handbook, 2007

Year

1948
printed 1949

Media

Medium

gelatin silver photograph

Dimensions

36.5 x 35.0 cm image/sheet; 50.5 x 40.5 cm board

Signature & date

Signed and dated c. verso, ink "Irving Penn... Jan 6, 1949 IP".

Credit

Gift of Edron Pty Ltd - 1995 through the auspices of Alistair McAlpine

Accession number

316.1996

Copyright

© Irving Penn 1948 (renewed 1976) by The Condé Nast Publications, Inc.