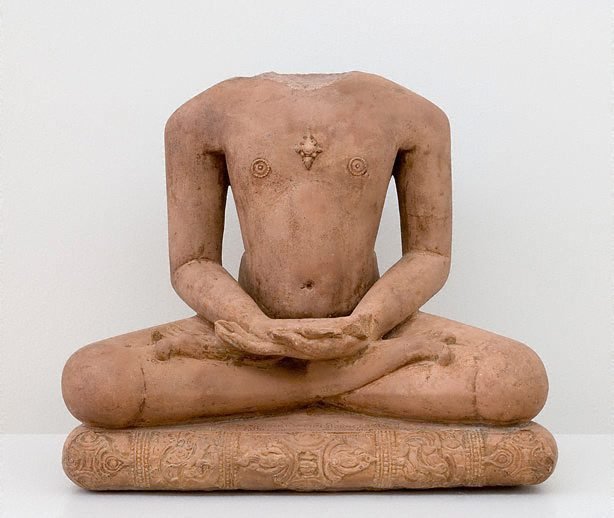 Unknown Artist
Jina Munisuvrata
Other titles:

Jain Tirthankara

Location

Not on display

Further information

India has produced three of the major religions of the world: Hinduism, Buddhism and Jainism. Jainism, continuously practised since at least 6th century BCE, believes that an immortal soul ('jiva') resides within every living entity. This soul is subjected to repeated rebirths unless it can achieve a state of liberation ('moksha'). Whereas in Buddhism the Buddha is the great teacher, the Jains believe in a group of 24 Jinas ('Liberators'), the last of whom, Vardhamana Mahavira, lived c599-527 BCE. These Jinas are also known as 'Tirthankara' ('Ford crosser'), a title of veneration. There are two communities of Jains: the Digambaras ('skyclad', ie, naked) and the Svetambaras ('white clad'). Both groups stress the path to liberation was one of asceticism and meditation, and they stressed the importance of austere and rigorous ascetic practices. The Digambaras, in their disciplined rejection of any form of attachment to the world, refuse to wear clothing. Images of the 24 Jinas, each one seated cross-legged, hands in lap with palms upwards, are the quintessential icon of Jainism.

Asian Art Department, AGNSW, November 2005.

Place of origin

Year

11th century

Media

Medium

sandstone

Dimensions

47.0 x 55.9 x 29.2 cm

Signature & date

Not signed. Not dated.

Credit

Purchased 2005

Accession number

320.2005

Provenance

Ajit Bhashin, pre 1996, London/England
John Stewart, 1996-1997, acquired in 1996 or 1997 perhaps in London.
Arnold Lieberman, 1998-2005, United States of America, precise date of acquisition to be determined.
Thomas Murray, 2005, United States of America, purchased through Thomas Murray (art dealership) by the Art Gallery of New South Wales, Sydney, 2005.