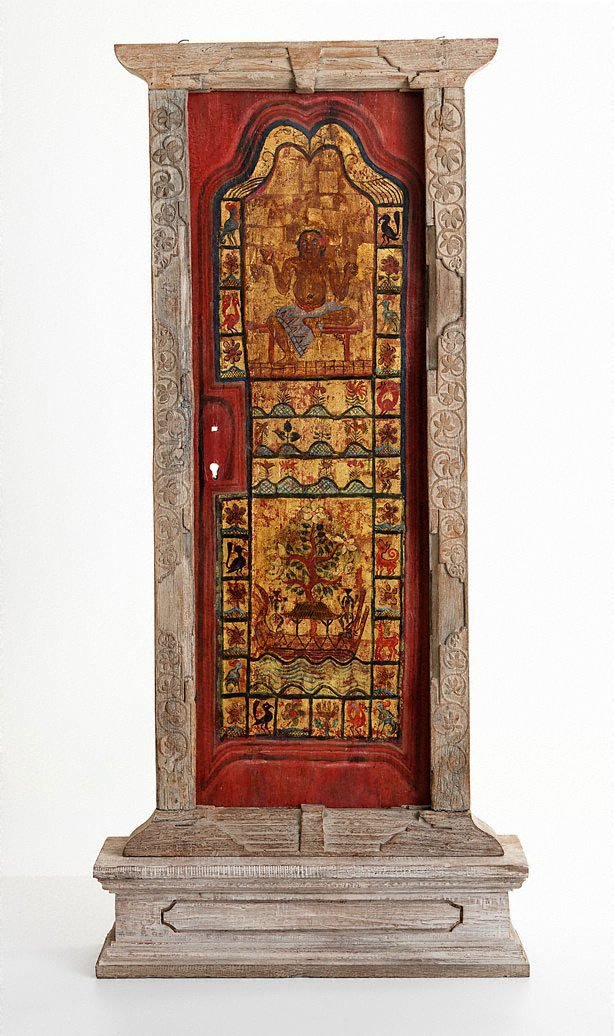 (Australia 06 Feb 1915 – 16 Aug 1989)
(Indonesia circa 1951 – )
recto: Self portrait on Balinese door (Donald Friend) verso: Jungle motif with devotional figure (I Made Jojol)
Location

Not on display

Further information

Donald Friend first visited Bali in 1966, later deciding to settle there at Sanur Beach where he built his Batujimbar Estate. Painted and carved respectively by Friend and Balinese sculptor I Made Jojol, this door was situated either in the museum or the guest pavilion that Friend created. In the upper section Friend has created a mocking portrait of himself as a Balinese prince, sitting in the lalita asana yoga pose; while the lower part was inspired by traditional Indonesian motifs.

Reflecting his great love and appreciation of Bali, Friend commissioned the young Jojol to carve the verso of this work. The subject presumably relates to a legend connected with his mountain village. A princely figure in a doorway holds his palms together in the Balinese gesture of respect; contrasting with the surrounding riot of animals and foliage in a whimsical, asymmetric composition.

Place of origin

Year

1978

Media

Medium

recto: oil, gold leaf on wooden door with carved frame verso: carved jackfruit tree (Artocarpus heterophyllus)

Dimensions

158.5 x 51.8 cm sight (painted door); 165.5 x 55.0 cm carved door; 203.0 x 93.8 x 24.5 cm door overall :
0 - Whole; 203 x 93.8 x 25 cm; Door overall, including frame and plinth/base.
0 - Whole; 158.5 x 51.8 cm; Sight dimensions of painted door panel.
0 - Whole; 165.5 x 55 cm; Door panel with carving.
b - plinth/base; 24.5 x 93.8 x 25 cm; Plinth/Base overall.
a - door; 178.5 x 83.5 x 10.7 cm; Door overall.

Signature & date

Not signed. Not dated.

Credit

Purchased with funds provided by Carole Muller and the Pissarro Dinner Fund 2005

Accession number

327.2005.a-b

Copyright

© Reproduced with permission of the Estate of Donald Friend. Licensed by Copyright Agency.