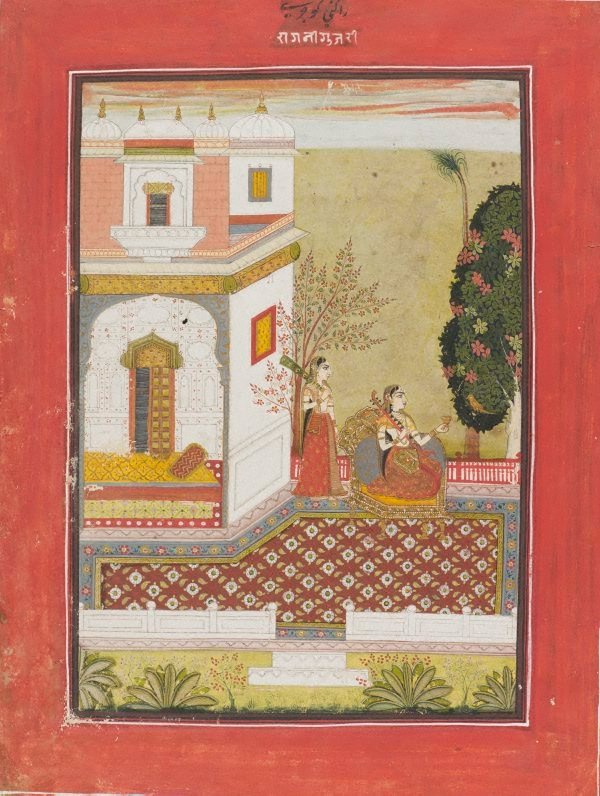 Unknown Artist
Gujari Ragini
Location

Not on display

Further information

This is a ragamala painting of the type that often features women taking pleasure in quiet pastimes in an effort to hold the loneliness felt by absent lovers at bay. In this work a woman is seated outside in a courtyard. She holds a musical instrument and is attended by a servant. The woman appears to call the attention of a bird in the tree, possibly in an attempt to send her lover a message.

Asian Art Department, AGNSW, September 2011

Place of origin

Cultural origin

North Deccan

Year

circa 1750

Media

Medium

opaque watercolour (gouache) on paper

Dimensions

33.0 x 25.4 cm (irreg.)

Credit

Gift of Dr Nigel and Mrs Norma Hawkins 2010. Donated through the Australian Government's Cultural Gifts Program

Accession number

34.2010

Provenance

Christie's London, 24 Apr 1980, London/England, Important Islamic and Indian manuscripts and miniatures, lot no. 62.
Dr Nigel and Mrs Norma Hawkins, 24 Apr 1980-Feb 2010, Toronto/Ontario/Canada, moved to France early 1990s, moved to Australia late 1990s. Gift to the Art Gallery of New South Wales, Sydney, Feb 2010.