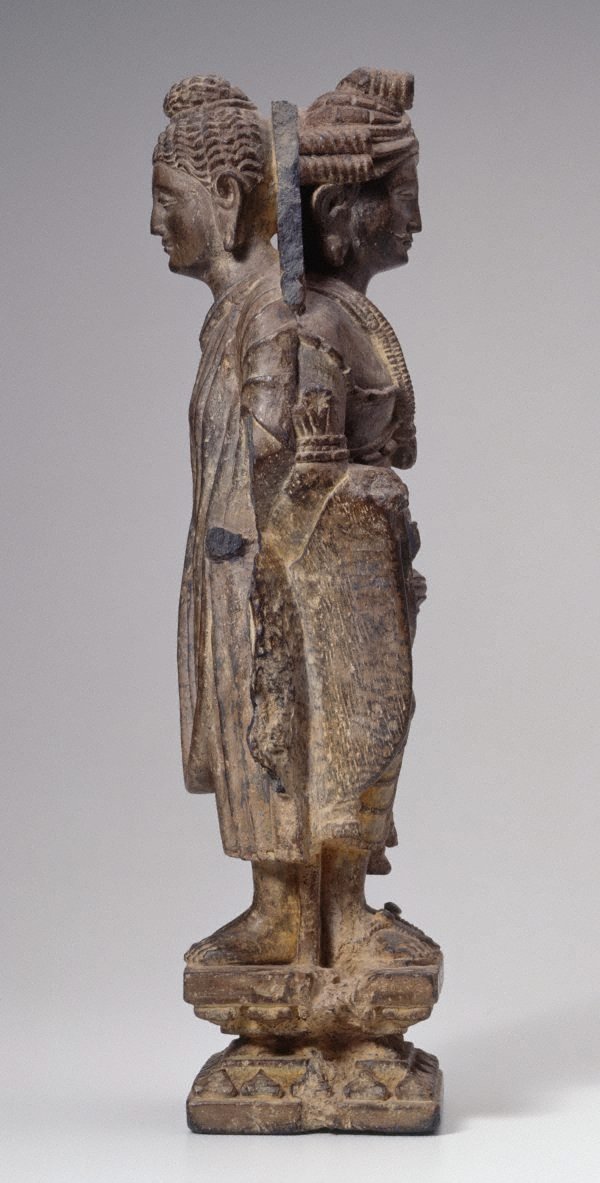 Unknown Artist
Shakyamuni and Maitreya
Location

Further information

The Gandharan school of Buddhist sculpture was one of the very first that articulated the sculptural image of the Buddha, and hence it is important in a consideration of Buddhist sculpture, as well as Buddhism. This double-sided sculpture features the historical Buddha Shakyamuni on one side and the Future Buddha Maitreya on the other. Shakyamuni can be identified by the 'cranial bump' or 'ushnisha', the elongated earlobes and the rippling monk's robe which covers both shoulders. Maitreya, by contrast, wears the garb of royalty and is depicted as a 'bodhisattva' (a compassionate being who has deferred his or her own Enlightenment in order to help others), with a moustache, distinctive looped hairdo, elegant robes, jewellery and sandals. He carries a waterpot which is a distinguishing attribute of his deity. A two sided sculpture like this, originally probably part of a pillar or similar supporting structure is rare. No other examples are known.

Asian Art Department, AGNSW, October 2003.

Place of origin

Period

Year

2nd century-3rd century

Media

Medium

schist

Dimensions

51.0 x 17.0 x 15.0 cm

Signature & date

Not signed. Not dated.

Credit

Purchased 2003

Accession number

358.2003

Provenance

Alex Biancardi, pre 1996-Nov 1998, Sydney/New South Wales/Australia, on loan to the Art Gallery of New South Wales since November 1996.
Private Collection, Nov 1998-Oct 2003, Sydney/New South Wales/Australia, by descent. Purchased by the Art Gallery of New South Wales, Sydney, 2003.