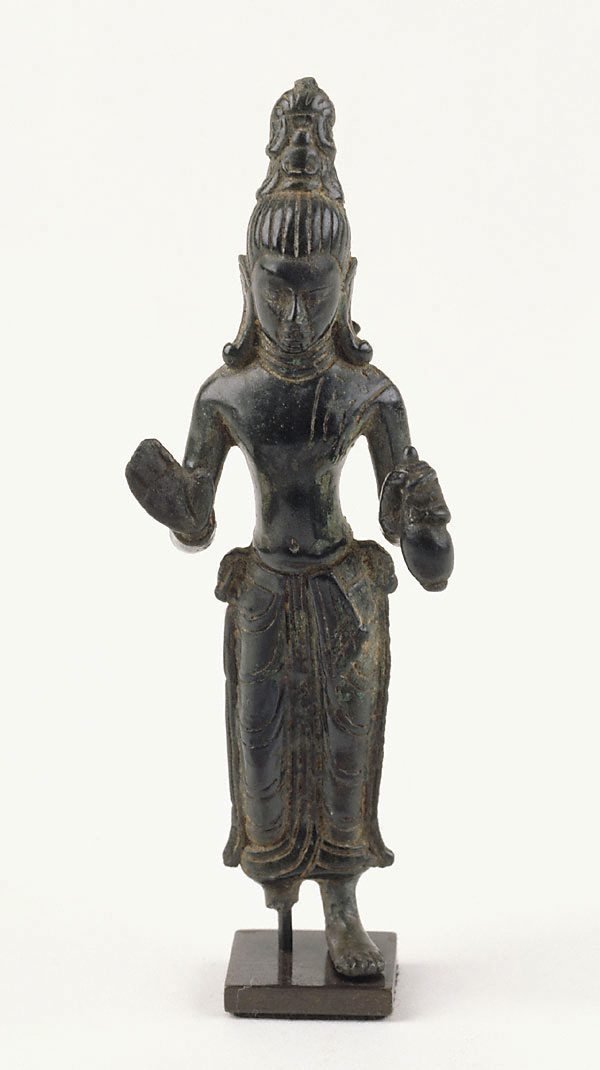 Unknown Artist
Avalokiteshvara, bodhisattva of compassion
Other titles:

Standing Avalokiteshvara

Location

Further information

The high headdress ('jatakamukuta') containing an image of the Buddha Amitabha identifies this figure as the bodhisattva Avalokiteshvara. Together with the long dhoti, with vertical folds in the middle and a cloth belt tied into a knot either side of the body, this denotes the influence of the Pallava school from Southern India. The piece is attributed to the Srivijaya culture, which dominated parts of Indonesia and Peninsula Thailand from the 600s to 1200s.

The Asian Collections, AGNSW, 2003, pg.324.

Place of origin

Period

Year

circa 8th century

Media

Medium

copper alloy

Dimensions

10.0 x 3.5 x 1.7 cm; 10.3 x 3.5 x 1.7 cm object with stand

Signature & date

Not signed. Not dated.

Credit

D G Wilson Bequest Fund 2000

Accession number

4.2000

Provenance

Alex Biancardi, pre Nov 1998, Sydney/New South Wales/Australia
Danny Biancardi, Nov 1998-Feb 2000, Sydney/New South Wales/Australia, by descent. Purchased by the Art Gallery of New South Wales, 2000.