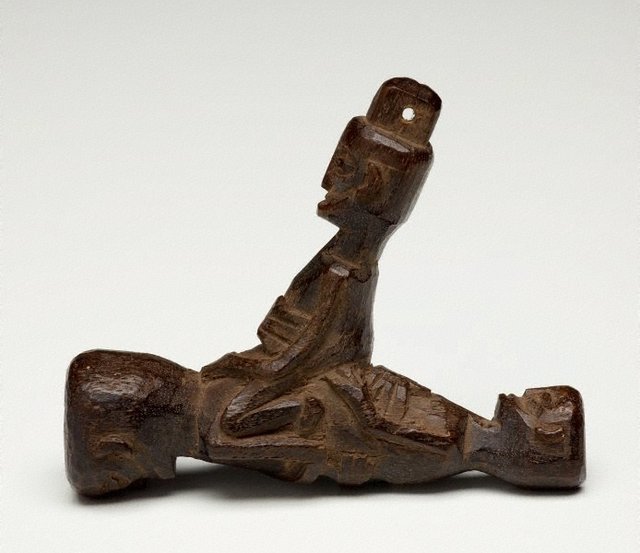 Unknown Artist
Amulet
Other titles:

Charm

Location

Not on display

Further information

Small carvings in the form of human figures, demonic creatures and animals in contorted positions are found throughout the numerous Dayak communities of Borneo. Often made by a shamanic priest, these talismanic charms are kept within the family apartments of communal longhouses, attached to baby carriers and cribs, or worn by individuals on necklaces and belts. In an environment where great dangers are posed by both the natural and supernatural world, amulets provide the living with protection against harm, illness and other calamities. While some were intended to scare off evil forces, others alluded to concepts and legends associated with the Dayak universe. This charm depicting three entwined humanoid figures may have been worn by a shaman, strung onto a necklace or belt incorporating other valuable and powerful charms, beads, animal teeth, claws and bones.

Place of origin

Year

19th century-20th century

Media

Medium

wood

Dimensions

6.5 x 8.0 x 1.8 cm

Credit

Christopher Worrall Wilson Bequest 2010

Accession number

415.2010

Provenance

Caspian Gallery, circa 1997, Paddington/Sydney/New South Wales/Australia
Mariann Ford, circa 1997-2010, Sydney/New South Wales/Australia, acquired from Caspian Gallery (art dealership). Gift to the Art Gallery of New South Wales as part of the Christopher Worrall Wilson Bequest 2010.