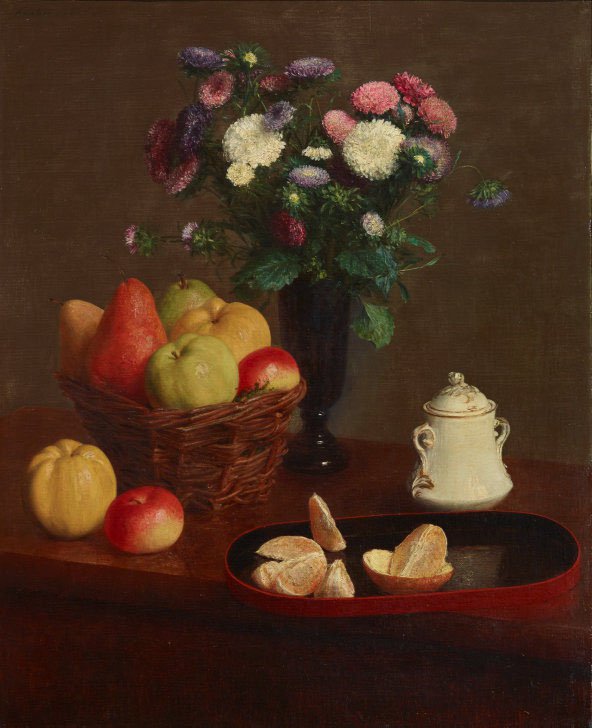 (France 14 Jan 1836 – 25 Aug 1904)
Flowers and fruit
Location

Further information

Neither his considerable number of mythological paintings, nor his many portraits, have eclipsed in interest Fantin-Latour's fabulous flower pieces. Occupying a contradictory position as modern productions deeply inflected by tradition, they seem to us the most fastidiously crafted of all paintings to have attracted the approval of the impressionists and their circle. Fantin-Latour was by no means an impressionist himself, and some of his fantasy pictures tend more towards symbolism; yet even at its most academic, his touch has the evanescence, the softness, we associate with someone like Manet. Indeed, Manet was his friend and intellectual collaborator. One of Fantin-Latour's most famous canvases records a gathering of artists in Manet's Batignolles studio. The still life reproduced here is the embodiment of elegance. The flowers, freshly picked and perfectly formed, have been set with easeful order in their vase. The opened fruit and table utensils suggest a breakfast piece. Ordinary enough as individual items, as an ensemble their arrangement alludes to ritual.

AGNSW Handbook, 1999.

Year

1866

Media

Medium

oil on canvas

Dimensions

71.8 x 58.4 cm stretcher; 88.5 x 76.0 x 7.0 cm frame

Signature & date

Signed and dated u.l., black oil "Fantin. 1866".

Credit

Purchased 1923

Accession number

4538

Provenance

James Fenton, pre 16 Feb 1903, Preston/Lancashire/England, Dutton Manor, Longridge. Sold at Christie's London, 16 February 1903, lot no. 4
Mansini, post 16 Feb 1903, Purchased at Christie's London, 16 February 1903, lot no. 4, £246.15
Sarah Jane Hodges, pre 1923, Purchased by the AGNSW from Sarah Hodges 1923. Purchased through S. Penton, Sydney.