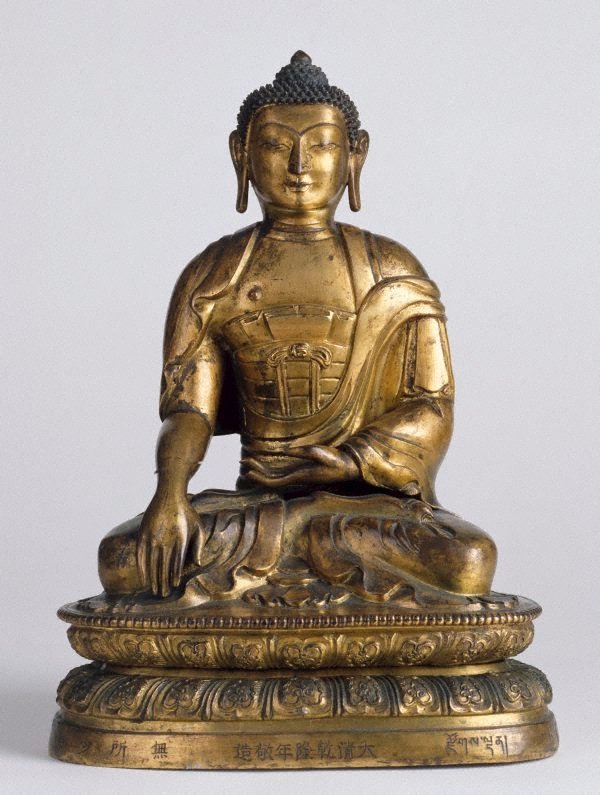 Unknown Artist
Seated Buddha calling the Earth to witness (bhumisparsha mudra)
Other titles:

Seated Buddha on lotus pedestal

Location

Not on display

Further information

The Buddha sits with his left hand in his lap and his right hand in the earth-touching gesture (bhumisparsha mudra). Around the base of the sculpture are brief inscriptions in Sanskrit, Mongolian and Tibetan and, in Chinese, the reign mark of the Qianlong emperor. Akshobya, one of the future Buddhas, and Shakyamuni the historical Buddha are the only Buddhas depicted in this pose.

Place of origin

Period

Year

18th century

Media

Medium

bronze, gold leaf

Dimensions

30.2 x 21.5 x 16.5 cm

Credit

Purchased 1996

Accession number

479.1996

Provenance

Private Collection, pre Sep 1995, Sydney/New South Wales/Australia
Christie's, Australia Pty. Ltd., Sep 1995, Melbourne/Victoria/Australia, offered for sale at Christie's, Sep 1995, Melbourne, lot 199.
Lynette Cunnington Asian Art, Sep 1995-Oct 1996, Sydney/New South Wales/Australia, purchased by the Art Gallery of New South Wales, Sydney, 1996.