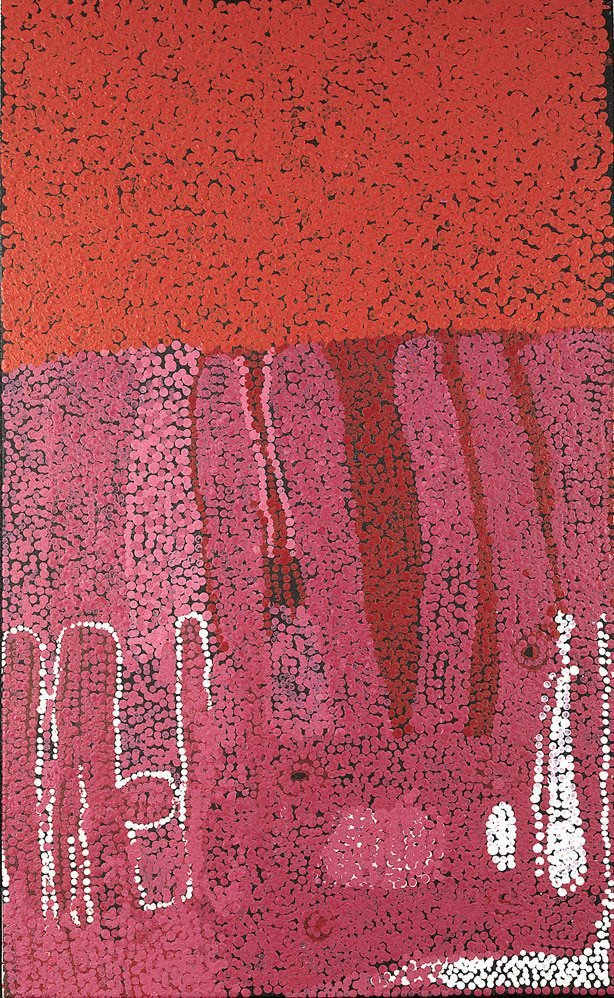 (Australia circa 1935 – )
Community

Irrunytju (Wingellina), Southern Desert region

Language group

Pitjantjatjara, Southern Desert region
Wantjama
Location

Not on display

Further information

According to documentation from Irrunytju Art Centre, 'Wantjama' tells the story of all the children. Tjitji Tjuta Tjukurrpa. That minyma (woman) Kutungu, she had two children, a boy and a girl at the rockhole, the next night she had more children at another rockhole. She had a lot of children. This country is where Wantjama, her son, was born.

'Wantjama' demonstrates Watson's characteristic field of dots depicting the sacred landscape, his country, through planes of colour that meld and intersect. Colour is used with great sensitivity and authority in all his work and this painting is no exception. The enigmatic shapes in the lower left hand corner, traced with white dots, are balanced by the solid white shapes on the right.

Irrunytju Arts is located in Western Australia 720 kms south-east of Alice Springs, in the Ngaagyatjarra/Pitjantjatjara lands. This new art community exhibited for the first time in 2001. Their vibrant and colourful works have since received much attention from private and public collectors. Tommy Watson has emerged as one of the key artists and this reflects his status in the community as a senior Law man and cultural custodian.

© Australian Art Department, Art Gallery of New South Wales, 2004

Place of origin

Year

2003

Media

Medium

synthetic polymer paint on linen canvas

Dimensions

139.5 x 85.2 cm stretcher

Signature & date

Not signed. Not dated.

Credit

Purchased 2004

Accession number

5.2004

Copyright

© Tommy Watson. Licensed by Aboriginal Artists Agency Ltd.