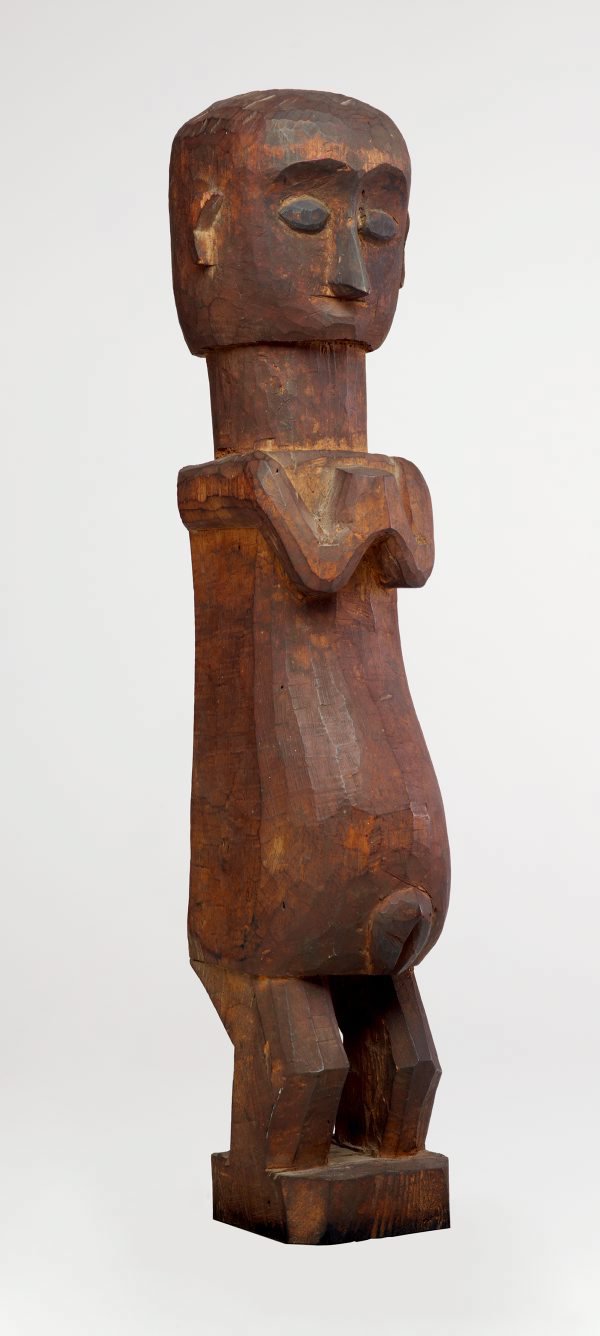 Unknown Artist
Female ancestral or protective figure (adu)
Other titles:

Adu Horo (Protective figure)

Location

Not on display

Further information

On the island of Nias, wooden images known as 'adu' are believed to provide a medium between the human world and that of the spirits, ancestors and gods. While female 'adu' sculptures do occur, they appear to be less prevalent than depictions of male ancestors and deities in hermaphroditic form, especially those depicting pregnant women. Among Nias societies, birth is considered a sacred and potentially dangerous act that takes place under the influence of deities and ancestors. With its prominent genitalia and rounded abdomen the figure may represent an ancestor who died with child or during labour. The absence of accoutrements associated with nobility may indicate the common status of the individual depicted. It is also possible, however, that the figure does not represent an ancestor but was a device to aid childbirth.

Place of origin

Cultural origin

Nias

Year

19th century

Media

Medium

wood

Dimensions

65.5 x 14.5 x 15.0 cm

Credit

Christopher Worrall Wilson Bequest 2010

Accession number

521.2010

Provenance

William Downing Webster, pre 1896, England
Augustus Pitt-Rivers, Oct 1896, England, acquired from William D. Webster.
Christopher Wilson, 1990-1996, Sydney/New South Wales/Australia, purchased at Christie's, South Kensington, Tribal art sale, 2 October 1990, lot no. 17.
Mariann Ford, 1996-2010, Sydney/New South Wales/Australia, inherited from the estate of Christopher Wilson. Gift to the Art Gallery of New South Wales as part of the Christopher Worrall Wilson Bequest 2010.