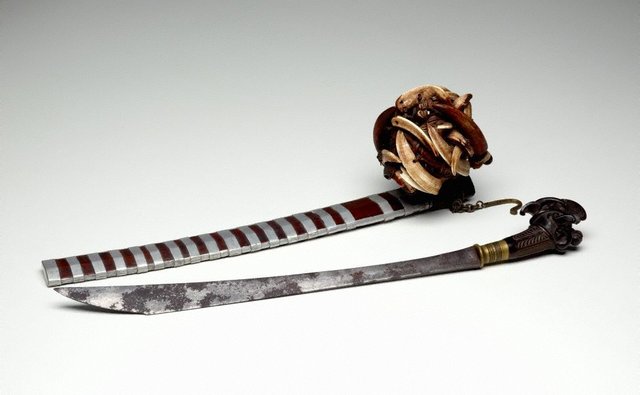 Unknown Artist
Sword with scabbard and amulet basket (belato sebua)
Location

Not on display

Further information

The sword and scabbard ('belato') were among the most important items belonging to a warrior on Nias, serving as a physical weapon and a protective device against enemies and malevolent spiritual forces. Found throughout the island, 'belato' swords are distinguished by ornate hilts in the form of mythical creatures and their scabbards which incorporate a range of talismanic devices, including carved 'adu' figures.

The hilt depicts the head of a 'lasara', a composite protective beast reserved for royalty which combines the features of a hornbill, deer and crocodile. A small monkey astride the 'lasara's' neck was believed to predict and warn of potential threats. These motifs, along with the rattan amulet basket ('rago') fashioned by the warrior and caged with animal teeth and tusks, would have offered powerful protection
to the user.

Place of origin

Year

late 19th century-early 20th century

Media

Medium

wood, iron brass, rattan, crocodile teeth and pigs' tusks

Dimensions

72.0 x 18.0 x 15.0 cm :
a - sword, 65 x 8.5 x 5.8 cm
b - scabbard, 56 x 18 x 15 cm

Credit

Christopher Worrall Wilson Bequest 2010

Accession number

526.2010.a-b

Provenance

Christopher Wilson, pre Nov 1986-1996, Sydney/New South Wales/Australia, purchased in Bawomataluo village, Nias, Indonesia. This object appears in 'Southeast Asian tribal art', an unpublished text by Christopher Wilson, College of Fine Arts, Sydney, November 1986.
Mariann Ford, 1996-Dec 2010, Sydney/New South Wales/Australia, inherited from the estate of Christopher Wilson. Gift to the Art Gallery of New South Wales as part of the Christopher Worrall Wilson Bequest 2010.