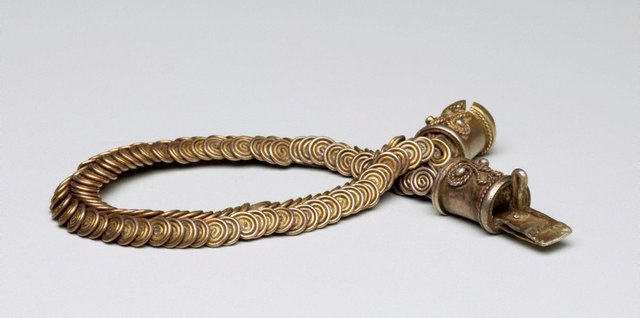 Unknown Artist
Bracelet
Location

Not on display

Further information

With connotations of fertility and the continuity of life and death, the spiral motif is one of the most ancient and enduring ornamental designs
found throughout the Indonesian archipelago. Although this bracelet is believed to have been created and used by one of the ethnic groups of
Sulawesi, its precise origin remains elusive. The discs of coiled wire evoke the spirals used in a number of regions of Sulawesi, including Kulawi, Palu, Poso and Toraja. Such designs feature prominently on architecture and textiles, and also on personal adornments made from bark cloth, shells, beads and metal. Crafted by an expert metal smith and embellished with elegant spirals in a twisted rope design, this bracelet would have been
a prized item indicative of wealth and high status.

Place of origin

Year

19th century-20th century

Media

Medium

silver

Dimensions

22.0 x 1.4 x 1.1 cm

Credit

Christopher Worrall Wilson Bequest 2010

Accession number

539.2010

Provenance

Christopher Wilson, pre 1989-1996, Sydney/New South Wales/Australia, purchased in Indonesia.
Mariann Ford, 1996-Dec 2010, Sydney/New South Wales/Australia, inherited from the estate of Christopher Wilson. Gift to the Art Gallery of New South Wales as part of the Christopher Worrall Wilson Bequest 2010.