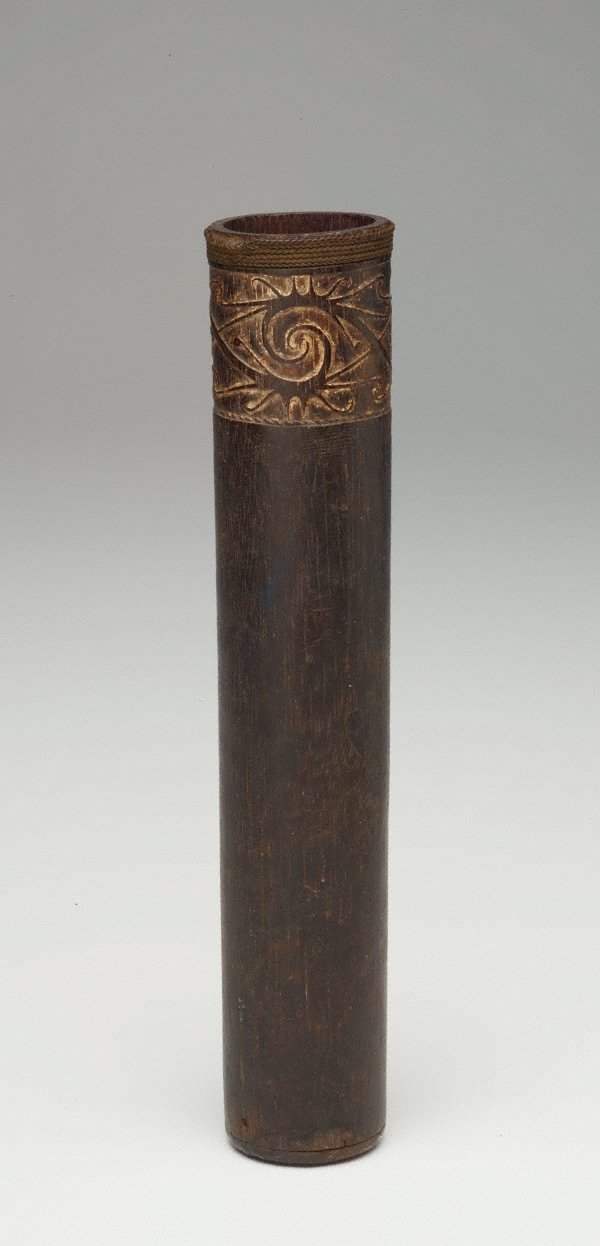 Unknown Artist
Container for betel quid
Other titles:

Lime container

Location

Not on display

Further information

This bamboo vessel with traces of lime residue would have once formed part of a larger set of paraphernalia for the preparation and consumption of betel. The slaked lime contained within would have been combined with areca nut ('pinang') and other desired ingredients before being wrapped in betel ('sirih') leaves to form chewing quads. As well as producing a mild
stimulative effect, betel was believed to possess medicinal and magical properties, and to facilitate contact with the supernatural world. Throughout Borneo even the most utilitarian items were embellished with elaborate designs alluding to plants and creatures from the natural world as well as those from the upper and lower realms. One of the most prominent designs is the mythical dragon–dog ('aso') motif, a fierce creature of the underworld associated with fertility and believed to provide great protection from malevolent spirits. In this container, a design of entwined 'aso' motifs has been carved into the surface of the bamboo tube. The designs have been abstracted to create a stylised yet identifiable reference to the large jaws and curling fangs of the composite beast.

Place of origin

Cultural origin

Kenyah or Kayan

Year

19th century-20th century

Media

Medium

Bamboo, rattan, metal, lime residue

Dimensions

31 x 5.7 x 5.7 cm

Credit

Christopher Worrall Wilson Bequest 2010

Accession number

545.2010

Provenance

Christopher Wilson, pre Nov 1986-1996, Sydney/New South Wales/Australia, probably purchased in Sarawak, Malaysia mid 1970s or1985. Appears in 'Southeast Asian tribal art', an unpublished text by Christopher Wilson, College of Fine Arts, Sydney, November 1986.
Mariann Ford, 1996-Dec 2010, Sydney/New South Wales/Australia, Inherited by Mariann Ford from the estate of Christopher Wilson. Gift to the Art Gallery of New South Wales as part of the Christopher Worrall Wilson Bequest 2010.