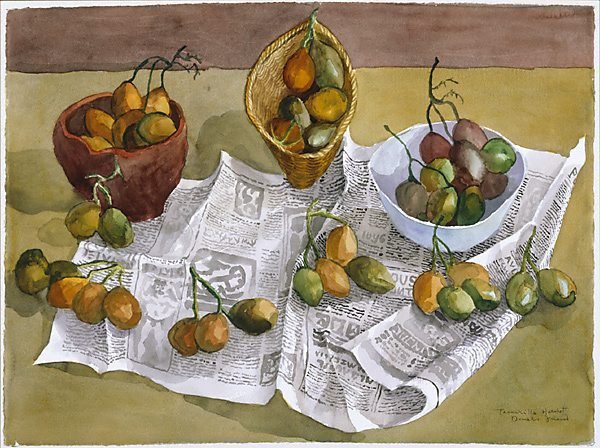 (Australia 06 Feb 1915 – 16 Aug 1989)
Tamarillo harvest
Location

Not on display

Further information

In the last years of his life, deteriorating health prompted Friend to turn to the more immediate convenience of still life as a subject for painting. He produced some of his most beautiful watercolours during this period when, as he wrote poignantly in his book 'Art in a Classless Society' published in 1985:

"Did I retire or was I exiled from that garden of earthly joys? ... Farewell to youth then. And to the Nude ... In life as in art, much of what we accept is a barely adequate substitute for something we would rather have.

The greengrocer's shop is crammed with colourful models, attractive vegetable rivals to those warm blooded bipeds in blue jeans who lean provocatively against lamp posts playing pocket billiards or to the polychrome butterfly painted ladies clad in varieties of musical comedy drag ... For sheer loveliness the fruit and vegetables win hands down."

Year

(1987)

Media

Medium

watercolour on white wove paper

Dimensions

56.5 x 75.5 cm sheet; 79.0 x 98.0 x 2.3 cm frame

Signature & date

Signed l.r. corner, pen and black ink ".../ Donald Friend". Not dated.

Credit

Purchased 1987

Accession number

552.1987

Copyright

© Reproduced with permission of the Estate of Donald Friend. Licensed by Copyright Agency.