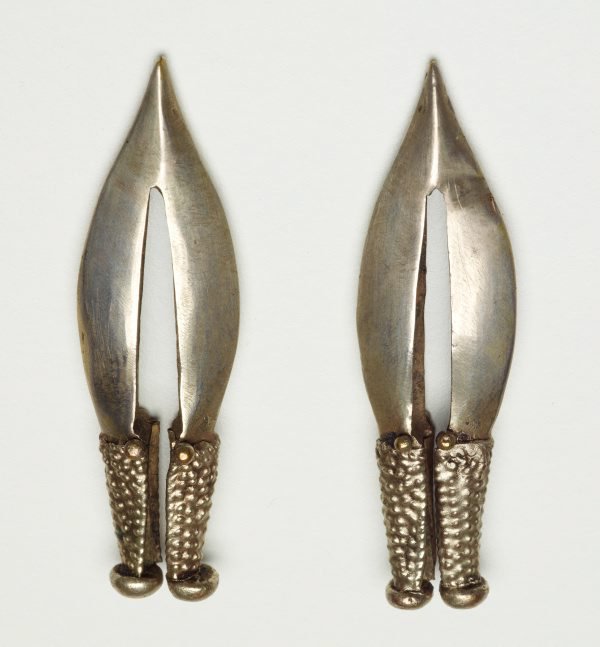 Unknown Artist
Pair of earrings
Location

Not on display

Further information

These silver earrings demonstrate the widespread dispersion and stylistic variation of the omega or open-oval form, an ancient design in sacred jewellery throughout mainland and insular Southeast Asia. Examples of omega ornaments in jade and bone occur as early as 500 BCE among Austronesian groups living in Taiwan, the Philippines and Vietnam. Symbolising female genitalia and associated with fertility and abundance, the basic omega form has undergone various manifestations among the animist and ancestral cultures of Indonesia, with ornaments ranging from stylised forms with minor embellishments to elaborate examples incorporating figurative depictions of humans and animals. The elongated and pointed silver omega ornaments of Lembata worn by females were an essential exchange item in marriage negotiations. The granulation patterning at the base of the earrings may reference rice stalks – a further allusion to fertility and abundance.

Place of origin

Year

19th century-20th century

Media

Medium

silver

Dimensions

7.0 x 2.2 x 1 cm each :
a - earring, 6.8 x 2.1 x 1 cm
b - earring, 6.8 x 2.1 x 1 cm

Credit

Christopher Worrall Wilson Bequest 2010

Accession number

553.2010.a-b

Provenance

Nomadic Rug Traders, pre 2004, Sydney/New South Wales/Australia, purchased in Bali, Indonesia.
Mariann Ford, 2004-Dec 2010, Sydney/New South Wales/Australia, purchased from Nomadic Rug Traders (art dealership). Gift to the Art Gallery of New South Wales as part of the Christopher Worrall Wilson Bequest 2010.