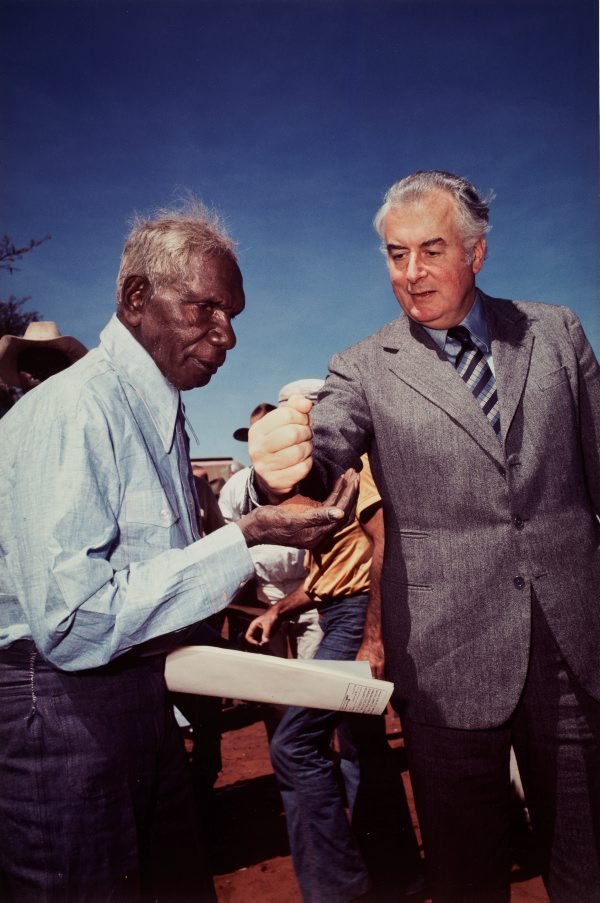 (Australia 1945 – )
Community

Sydney, South-east region
Prime Minister Gough Whitlam pours soil into the hands of traditional land owner Vincent Lingiari, Northern Territory
Location

Not on display

Further information

The political struggle that led to the affirmation of native title enshrined in the Mabo and Wik decisions is the subject of this momentous photograph. Appropriately, it was taken by Mervyn Bishop, Australia's first Aboriginal press photographer and a noted recorder of customary and contemporary life in Aboriginal communities. Bishop caught the human as well as the historical significance of the transferral of soil from the hand of a white prime minister, the reformist Gough Whitlam, to that of a Gurindji elder, Vincent Lingiari. Both men seem awed, even humbled, by the power of their own gesture, enacted against a brilliant blue Australian sky. Land at the Vestey-operated Wave Hill Station was handed back to its traditional owners, the Gurindji people, in August 1975, after decades of servitude and a nine-year walkout. The centrality of the concept of land, or more properly of place, in Aboriginal culture and consciousness is here given expression in a modern medium.

AGNSW Handbook, 1999.

Place of origin

Year

1975
printed 1984

Media

Medium

type R photograph

Dimensions

76.0 x 50.7 cm image / sheet

Signature & date

Not signed. Not dated

Credit

Purchased 1994

Accession number

555.1994

Copyright

© Mervyn Bishop/ Department of the Prime Minister and Cabinet.