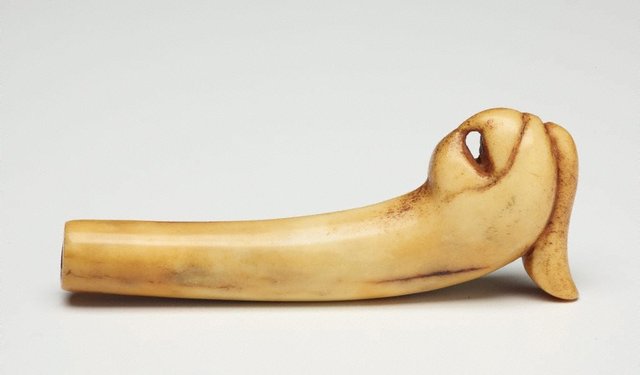 Unknown Artist
Hilt for a sword (kabeala) or dagger
Other titles:

Kris handle, Hilt for sword (kris)

Location

Not on display

Further information

On Sumba weapons symbolising the power and status of aristocrats and warriors were worn across the front of the body, tucked into the waist of a male's 'hinggi' textile, with the hilt displayed prominently. Carved in the form of a stylised fowl, this hilt for a dagger or sword ('kabeala') served not only as a marker of status but had strong connotations with
the supernatural world. According to Sumbanese beliefs, chickens and roosters are associated with ancestral power and augury. They are ritually sacrificed by humans in order to communicate with the spiritual upper world and appear prominently in architectural features, textiles and other prestige items. Made from precious ivory, this hilt's worth was further
increased by the belief that all objects are imbued with their own spiritual life force.

Place of origin

Year

19th century-20th century

Media

Medium

ivory

Dimensions

9.6 x 3.5 x 1.7 cm

Credit

Christopher Worrall Wilson Bequest 2010

Accession number

563.2010

Provenance

Christopher Wilson, pre 1989-1996, Sydney/New South Wales/Australia, puchased in Indonesia.
Mariann Ford, 1996-2010, Sydney/New South Wales/Australia, inherited from the estate of Christopher Wilson. Gift to the Art Gallery of New South Wales as part of the Christopher Worrall Wilson Bequest 2010.