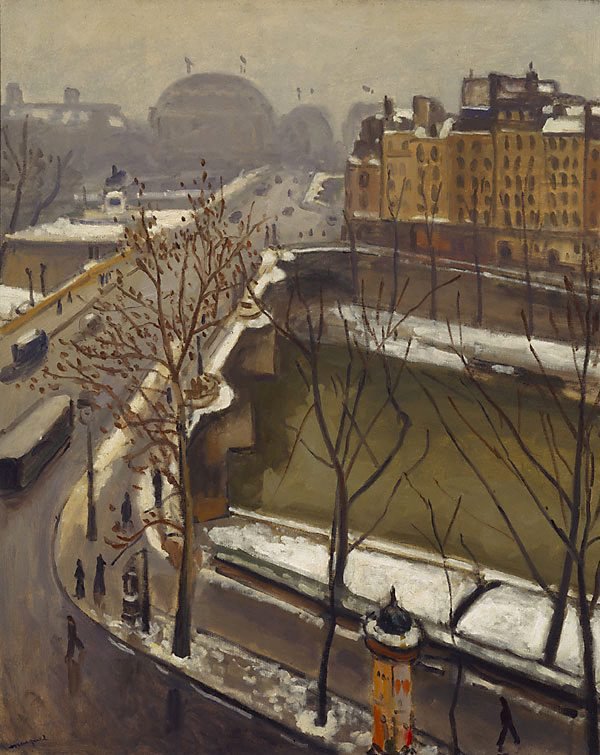 (France 26 Mar 1875 – 14 Jun 1947)
The Pont Neuf in the snow
Location

Not on display

Further information

Circumspection and sobriety distinguish Albert Marquet from his fauvist colleagues and his friend Matisse. Unlike the latter, Marquet never felt the lure of exotic locations and subjects, let alone scorching colours. Instead he contented himself with a long series of unexceptional urban views, especially from the windows of his quayside studio in Paris. Of all the multifarious moods of this metropolis, he most savoured the quiet and grey. 'The Pont Neuf in the snow' is a perfect expression of Marquet's gift for painterly understatement. As for his inveterate interest in orderliness, that too is evidenced. Something of the silence, and everything of the chill composure, of a city in wintertime is apparent in this image. Seemingly executed with hardly a second thought or indecisive move, the image is realised in a single unity of tone that is reminiscent of Whistler. In contrast to many of his contemporaries, artists such as Marquet pursued a calmer, more reflective, vision of modernity.

AGNSW Handbook, 1999.

Year

late 1920s

Media

Medium

oil on canvas

Dimensions

78.2 x 64.7 cm stretcher; 102.5 x 86.5 x 5.7 cm frame

Signature & date

Signed l.l., blue oil "Marquet". Not dated.

Credit

Purchased 1939

Accession number

6927

Copyright

© Albert Marquet/ADAGP. Licensed by Copyright Agency

Provenance

David Jones' Art Gallery, Sydney, Sydney/New South Wales/Australia, Purchased by the AGNSW from David Jones Art Gallery 1939. Purchased from 'The Daily Telegraph Exhibition of French and British Modern Art'.