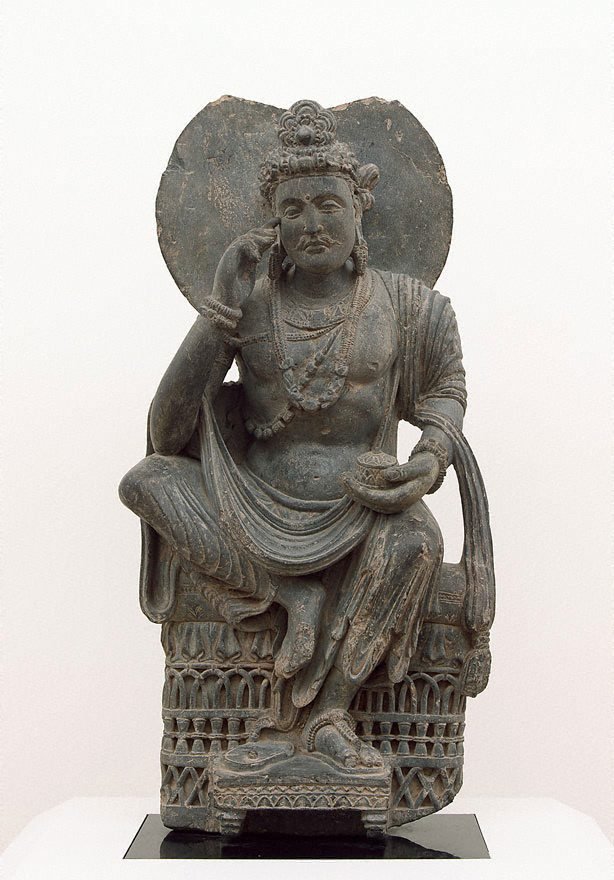 Unknown Artist
Maitreya, Buddha of the future
Other titles:

Stele with Bodhisattva seated in contemplation, Seated pensive Bodhisattva, Maitreya

Location

Further information

Originating in the north-west regions of present-day Pakistan and Afghanistan, the art of Gandhara represents a unique meeting of East and West. From these sources there emerged a remarkable new art that flourished during the first four centuries of the current era. This figure of a Maitreya is distinguished by its quiet and contemplative attitude, the distinctive face with prominent moustache, the flowing drapery, the ornate pedestal, and the right foot casually raised leaving an empty sandal on the footstool. The right hand lightly touches the head in a pensive gesture, and the left holds a covered water bowl. It is an image that beautifully and richly embraces its cosmopolitan heritage and lays the foundations for the great traditions of East Asian Buddhist sculpture.

Asian Art Department, AGNSW, 1999

Place of origin

Period

Year

3rd century

Media

Medium

schist

Dimensions

79.0 x 39.0 x 18.0 cm

Signature & date

Not signed. Not dated.

Credit

Purchased 1997

Accession number

7.1997

Provenance

Julian Sadik-Sherrier, pre Sep 1996, London/England, purchased by the Art Gallery of New South Wales, Sydney, 1997.