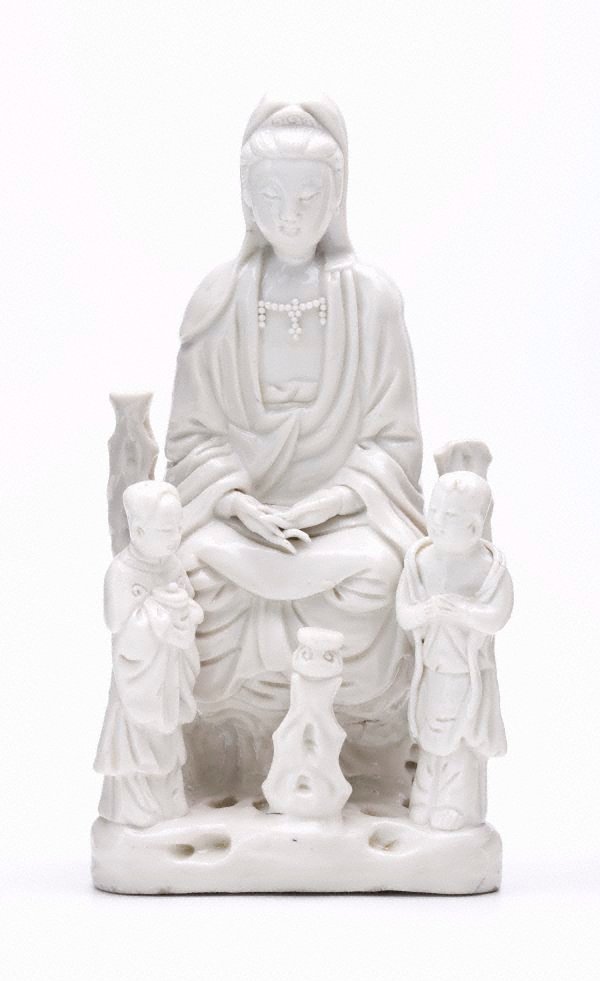 Unknown Artist
Guanyin with two attendants
Location

Not on display

Further information

Henceforth the history of ceramic development and fashion in China can best be studied through Ching-te Chen porcelain whether intended for court, domestic or export requirements. Of course there were innumerable kilns throughout China, particularly in the south-east, the south and the north. But there were not many centres of note receiving favoured patronage and the best known was probably Te-hua in Fukien province, where the deservedly celebrated ivory coloured or white porcelain known in the West as 'blanc-de-Chine' was made. One of the specialities of these kilns was figures such as Kuan-yin, Goddess of Mercy, and others from the Buddhist pantheon.

Hepburn Myrtle, 'Chinese Porcelain of the Ming and Ch'ing Dynasties', Art Gallery of New South Wales, Sydney, 1977. pp6-7

Place of origin

Period

Media

Medium

porcelain, glazes; blanc-de-chine

Dimensions

21.0 cm

Credit

Bequest of Amy Alfreda Vickery 1942

Accession number

7315

Provenance

Amy Alfreda Vickery, 1942, Strathfield/Sydney/New South Wales/Australia, bequeathed to the Art Gallery of New South Wales, Sydney, Sep 1942.