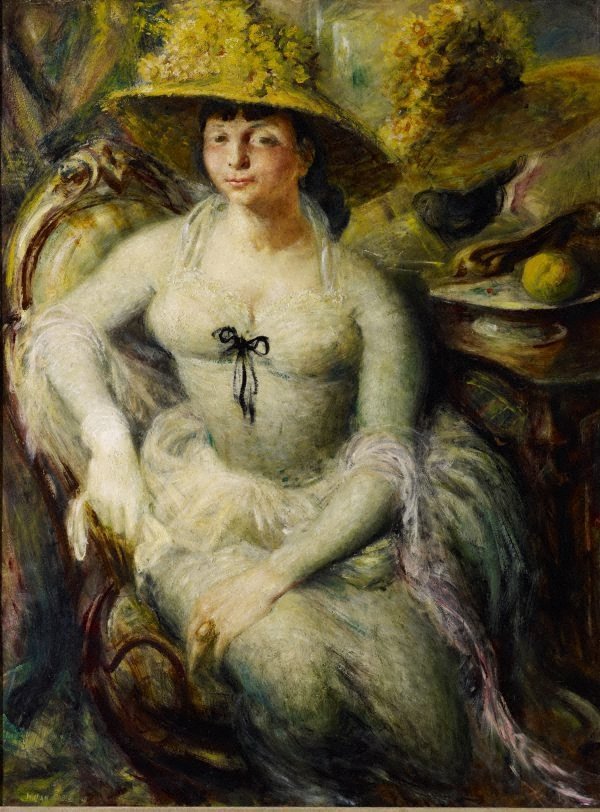 (Australia, England 24 Sep 1899 – 13 May 1970)
Margaret Olley
Location

Further information

Loudon Sainthill had an exhibition opening, and on the invitation he had written: 'Darling Oll, come dressed as a duchess'. I didn't have anything to wear, so a friend gave me his grandmother's wedding dress sleeves and helped me make an extravagant dress from ex-war supply parachute silk … Dobell said he'd like to paint a portrait of me, so I went to his flat the next week.

Margaret Olley, 1990

This is one of William Dobell's finest and best-loved portraits, depicting his fellow artist and a beloved figure of Australian art, Margaret Olley. Echoing the spirit of Gainsborough and Renoir, this painting marked Dobell's return to portraiture, for which he was awarded his second Archibald Prize.

Olley modelled for Dobell's sketches in a plain dress with only a hat for ornament, but Dobell based his painting on the extravagant outfit the young artist had worn to an exhibition opening.

This painting won the Archibald Prize in 1948 and was acquired by the Gallery in 1949

Year

1948

Media

Medium

oil on hardboard

Dimensions

114.3 x 85.7 cm board; 148.0 x 118.5 x 13.0 cm frame

Signature & date

Signed and dated l.l. corner, white oil "WILLIAM DOBELL 48".

Credit

Purchased 1949

Accession number

8164

Copyright

© Courtesy Sir William Dobell Art Foundation.