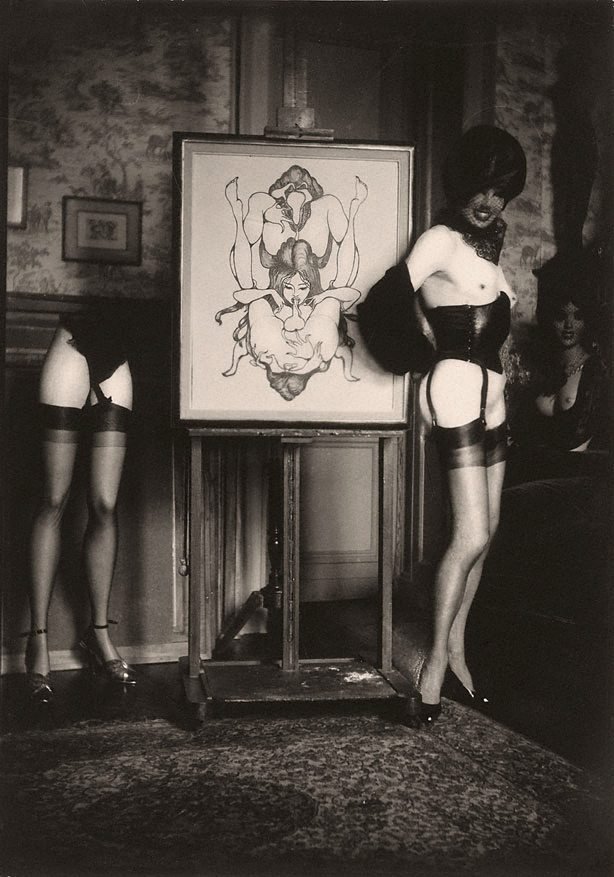 (France 1900 – 1976)
Self-portrait with painting
Location

Not on display

Further information

'…valid work, for an artist, is that which is an absolute depiction of the artist, that which I contend are his passions and that which society and conformity label as vices.' Pierre Molinier 1969 1

From an early interest in painting landscapes in an impressionist then abstract style, Pierre Molinier soon moved to portraying the figure. This representation, however, was an eroticised vision of the female form inspired by Molinier's overt fascination with his younger sister. His work only came to the attention of Breton and the surrealist group when Molinier sent Breton several images in the early 1950s, thereafter forming a close alliance with frequent illustrations in the journal 'Surrealist même'. Although Molinier had consistently created self-portraits from his mid teens, it was not until the 1960s that his sexual fetish for transvestism and his skill at photomontage met to form the intricate doubling of his feminised body. His technique of using negative-positive imaging to create multi-negative montage was done from his kitchen using natural light to photograph the montage elements. His libidinous imagery found great support with the surrealist group. Encouraged by this and by the renewed interest in body art and performance in the 1970s, Molinier made hundreds of postcard-sized images.

In 'Self-portrait with painting' Molinier has combined three elements: an earlier erotic painting, a mannequin (often used in full or in part) and himself in silk stockings, heels, corset, wig and mask – all photographed habitually in his tiny Bordeaux flat. The doubling in this image is made complex by the fracturing of the female mannequin, the lower half on the left of the image and the upper half mirrors Molinier's own figure as he poses for the camera. Obsessed with self-imagery, Molinier shot himself in his flat in a posed and dramatic scene in front of a mirror.

1. Gorsen P et al 1993, 'Pierre Molinier', Plug-in Editions, Winnipeg p 17

© Art Gallery of New South Wales Photography Collection Handbook, 2007

Year

1966

Media

Medium

gelatin silver photograph, multi negative photomontage, vintage

Dimensions

17.5 x 12.5 cm image/sheet

Signature & date

Not signed. Not dated.

Credit

Gift of Edron Pty Ltd - 1996 through the auspices of Alistair McAlpine

Accession number

821.1996

Copyright

© Pierre Molinier/ADAGP. Licensed by Copyright Agency.