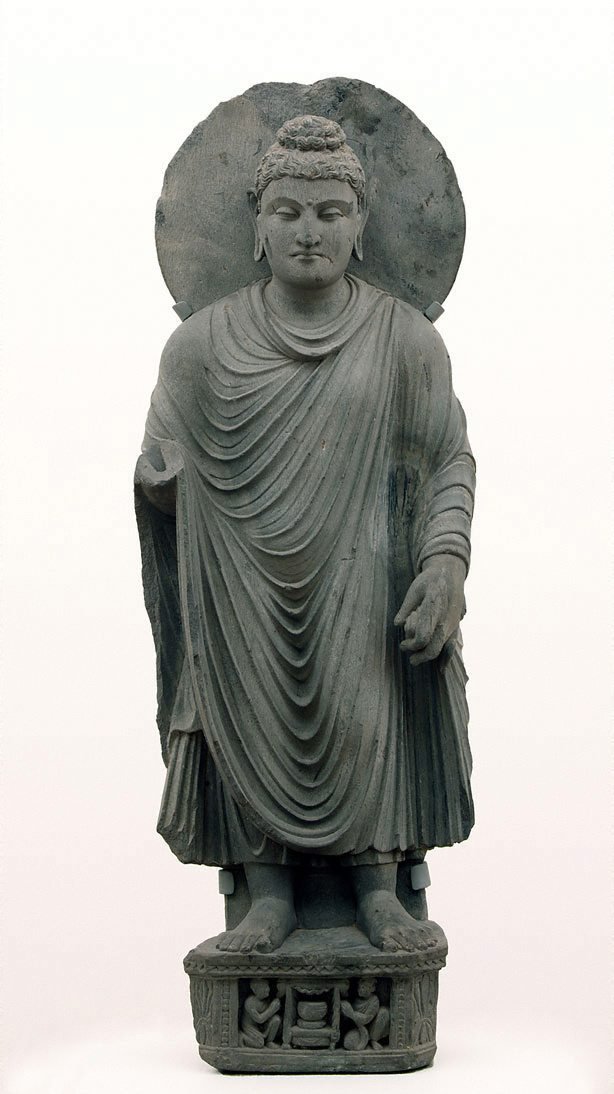 Unknown Artist
Standing Buddha
Other titles:

Figure of Buddha

Location

Further information

The Buddha was originally shown only by symbols, such as the stupa, the wheel of the Doctrine or a footprint. It was the Gandhara area of northwest India that gave rise to the first representations of the Buddha in human form in the 2nd century BCE. This standing figure shows a Greco-Roman influence in its classical facial features and the drapery-like folds of the robe. The left hand grasps a corner of the robe while the right hand would have faced palm out and fingers upright in the 'abhaya mudra' (gesture of fearlessness). Typical of the Gandharan Buddha is the naturalistic hairstyle, the rounded cranial bump or ushnisha (indicating wisdom), and the spiral between the eyebrows (urna) signifying spiritual insight.

Asian Art Department, AGNSW, August 1995

Place of origin

Period

Year

2nd century

Media

Medium

schist

Dimensions

109.0 x 37.0 x 17.0 cm

Signature & date

Not signed. Not dated.

Credit

Gift of Josef and Regina Neumann 1986

Accession number

85.1986

Provenance

Josef Newman, pre Dec 1985-1986, Sydney/New South Wales/Australia, on consigment to Christie's New York, 2 Dec 1985. Donated to the Art Gallery of New South Wales, Sydney, 1986.