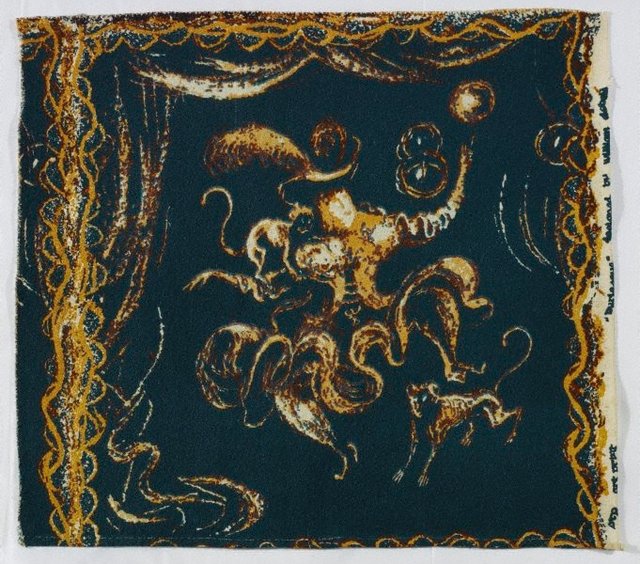 (Australia, England 24 Sep 1899 – 13 May 1970)
Burlesque
Location

Not on display

Further information

This fabric design resulted from a unique collaboration between Australian artists and the commercial textile industry during 1946-47. The enterprise was remarkable because it was then common practice to buy fabric designs from overseas for printing in Australia.

Claudio Alcorso director of Silk and Textile Printers, invited a large group of Australian artists to make designs for furnishings and fashion. After a trial run in 1946, the 'Modernage' range of fabrics was launched the following year and exhibited at Sydney's Hotel Australia, where girls dressed in some of the fabrics sold copies of the specially produced book 'A new approach to textile designing by a group of Australian artists', published by Sydney Ure Smith. The latter illustrated 46 designs by 33 artists with notes by each artist and essays by key figures in the enterprise, including Art Gallery of New South Wales director Hal Missingham. While some artists worked as though creating paintings, others like those shown here, gave greater consideration to the need for repetition of the design whilst preserving an overall unity of effect.

There was widespread publicity, with newspaper and magazine stories and displays in the windows of David Jones department store. The fabric range was displayed to similar acclaim in Melbourne, with subsequent tours to the USA and Canada. Despite both critical and popular acclaim however, it met with only limited commercial success, which Alcorso later attributed to a post-war climate of conservatism in Australia.

Year

(circa 1947)

Media

Medium

screenprint on cotton

Dimensions

43.7 x 44.8 cm

Credit

Gift of Claudio Alcorso 1971

Accession number

94.1971

Copyright

© Courtesy Sir William Dobell Art Foundation.