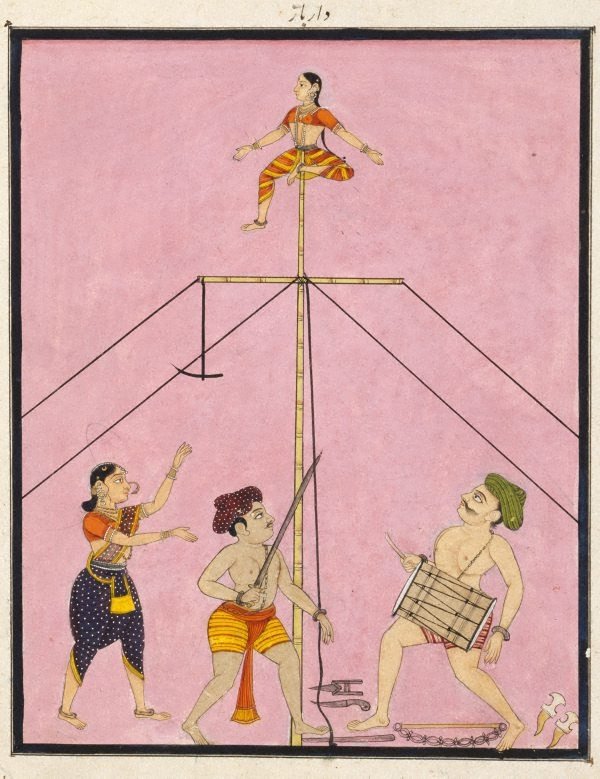 (India late 18th century – late 19th century)
Itinerant acrobats
Other titles:

The buffet game, Mock fight

Location

Not on display

Further information

The acrobats are typical of those numerous sets of depictions of castes and occupations so much favoured by European patrons of Indian painters in the early nineteenth century. In this striking image all attention is focused on the woman balancing on top of the pole. Below her, providing a drum roll to intensify the drama of the act is a drummer playing a double-headed drum that's v-shaped lacing is clearly visible. Both women wear the long saris typical of the Maharashtran region of western India; the saris are long enough for women to be able to wind them between their legs, so achieving a pantaloon effect. The style enables the ease of movement necessary in acrobatic routines as illustrated here but also allowed Maratha women to ride astride on horses and fight in various military campaigns in the eighteenth century.

Jim Masselos, 'Dancing to the flute - Music and dance in Indian art', AGNSW, 1997. pg. 248.

Place of origin

Cultural origin

Company school; probably by a Muslim artist working in Thanjavur

Year

circa 1770

Media

Medium

opaque watercolour with gold and silver on paper

Dimensions

22.8 x 18.1 cm image; 28.4 x 23.1 cm sheet

Signature & date

Not signed. Not dated.

Credit

Gift of Mr George Sandwith 1957

Accession number

9644

Provenance

Warren Hastings, circa 1770-1818, England, possibly commissioned in Madras (Chennai), India by Hastings between 1769 and 1772. Probably exported from India to England, 1785 or before. Held in the collection of Warren Hastings until his death in 1818.
Marian Hastings, 1818-1837, England, inherited from Warren Hastings.
Charles von Imhoff, 1837, England, inherited from Marian Hastings.
Private Collection, pre Aug 1853, England, purchased by a resident on the estate of Daylesford House from a sale of the contents of Daylesford House, Worcestershire (Gloucestershire from 1931), 22–27 August 1853 or before.
George Sandwith, 1939-18 Apr 1958, England, purchased on the estate of Daylesford House, Gloucestershire, 1939. Presented by Mr George Sandwith FRGS to the Art Gallery of New South Wales, Sydney. 25 October 1957, received 18 April 1958.