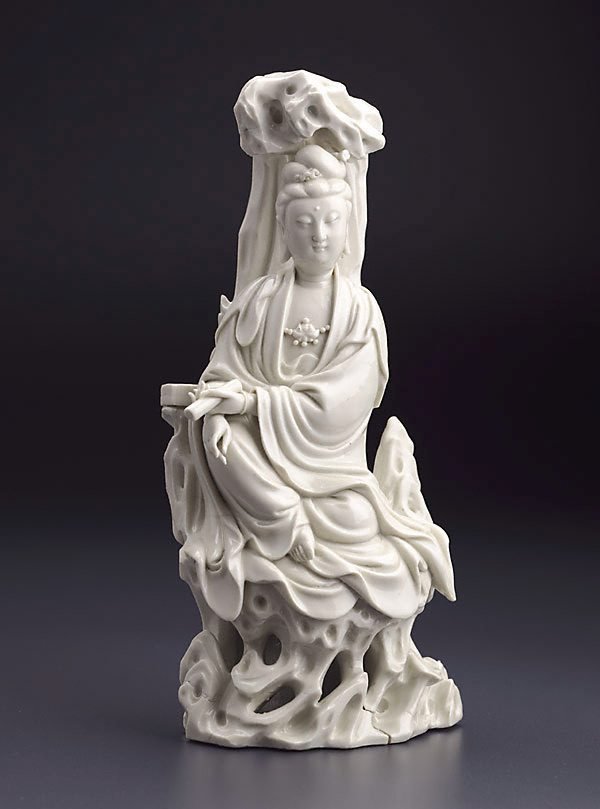 (China – )
Guanyin, bodhisattva of compassion
Location

Further information

The history of ceramic development and fashion in China can best be studied through Jingdezhen porcelain whether intended for court, domestic or export requirements. Of course there were innumerable kilns throughout China, particularly in the south-east, the south and the north. But there were not many centres of note receiving favoured patronage and the best known was probably Dehua in Fujian province, where the deservedly celebrated ivory coloured or white porcelain known in the West as 'blanc-de-Chine' was made. One of the specialities of these kilns was figures such as Guanyin, Goddess of Mercy, and others from the Buddhist pantheon.

Hepburn Myrtle, 'Chinese Porcelain of the Ming and Ch'ing Dynasties', AGNSW, Sydney, 1977. pp6-7

Place of origin

Period

Year

late 17th century

Media

Medium

porcelain, glazes; blanc de chine

Dimensions

34.4 x 16.0 x 13.9 cm

Credit

Gift of Sydney Cooper 1962

Accession number

EC79.1962

Provenance

Sydney Cooper, pre 1952-1962, Sydney/New South Wales/Australia, loaned to the Art Gallery of New South Wales in 1952. Donated to the Art Gallery of New South Wales, Sydney, June 1962.