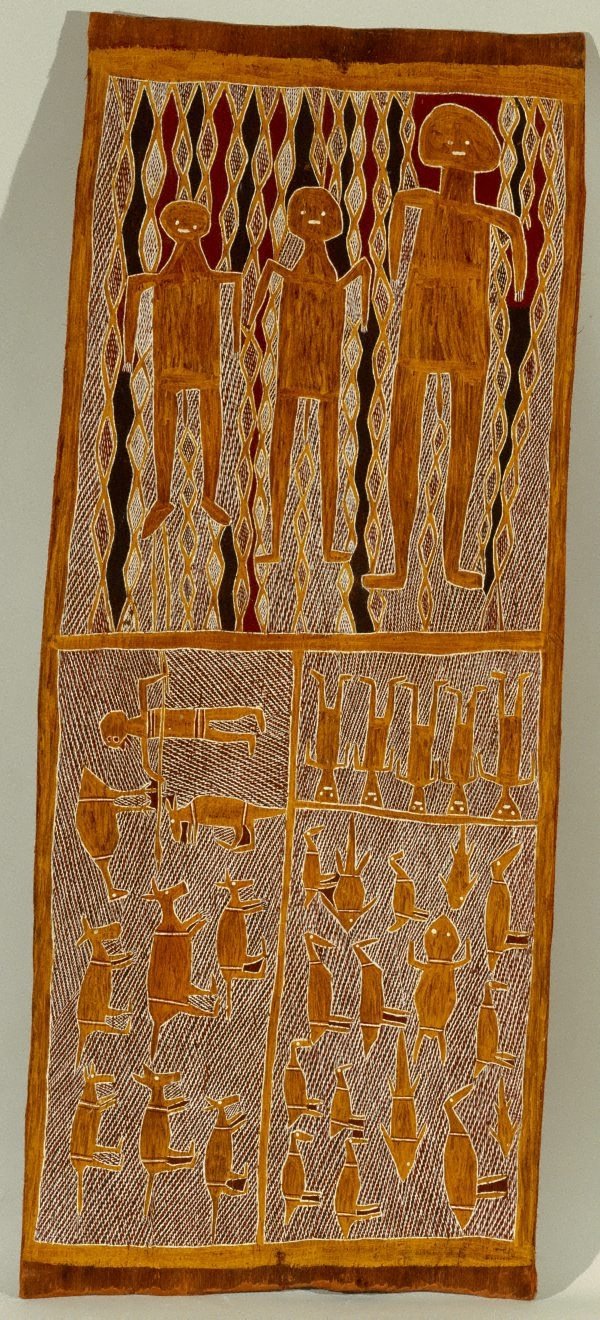 (Australia circa 1907 – 12 Apr 1979)
Community

Biranybirany (Caledon Bay), Arnhem region

Language group

Gumatj, Arnhem region
Lany'tjung - Barama & Gulparemun
Other titles:

Laindjung, Burruma and Gulparemun Lany'tjung Burruma and Gulparemun

Location

Further information

There are several clan versions of the Barama-Lany'tjung story. The most important Yirritja moiety ancestors, Barama (Banaidja) and Lany'tjung, emerged from the sacred waterhole in the river at Gangan. They were covered in patterns of mud and waterweeds. Lany'tjung gave language and law to each of the Yirritja clans of northeast Arnhem Land. This knowledge included clan songs, dances and ceremonial objects as well as designs to be painted on the body and the objects. Subsequently, while performing a Ngärra ceremony, Yirritja people called out the sacred name for fire causing the fire on the ceremonial ground to flare up and burn uncontrollably across a huge swathe of Arnhem Land. In the top panel Barama, Lany'tjung and Gulparemun, ancestral beings for the Yirritja moiety, are depicted. The lower panel shows, on the left, a hunter with spear and spear thrower and Yirritja animals which are also depicted on the right with five ceremonial figures.

© Information provided by the artist

Australian Art Department, AGNSW, 2000

Place of origin

Year

circa 1960

Media

Medium

natural pigments on bark

Dimensions

141.0 x 57.8 cm

Signature & date

Not signed. Not dated.

Credit

Gift of Dr Stuart Scougall 1960

Accession number

IA26.1960

Copyright

© Estate of Munggurrawuy Yunupingu. licensed by Viscopy, Sydney.