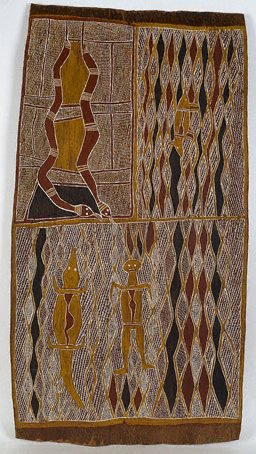 (Australia circa 1907 – 12 Apr 1979)
Community

Biranybirany (Caledon Bay), Arnhem region

Language group

Gumatj, Arnhem region
Lany'tjung - Banaidja Story
Other titles:

Laindjung - Banaidja myth Lany'tjung - Barama myth

Location

Not on display

Further information

Munggurrawuy Yunupingu's bark paintings are complex, many layered narratives pertaining to the creation of the Gumatj homelands in north east Arnhem Land. The diamond shaped miny'tji (sacred clan designs) are distinctive to Yirritja moiety artworks. In these paintings, the journeys and actions of ancestor beings are revealed, accompanied by motifs representing the transformation they wrought up on the landscape, such as the smoke and ash of fires, footprints, thunderclouds and rain.

Place of origin

Year

1960

Media

Medium

natural pigments on bark

Dimensions

107.3 x 58.4 cm

Signature & date

Not signed. Not dated.

Credit

Gift of Dr Stuart Scougall 1960

Accession number

IA28.1960

Copyright

© Estate of Munggurrawuy Yunupingu. licensed by Viscopy, Sydney.