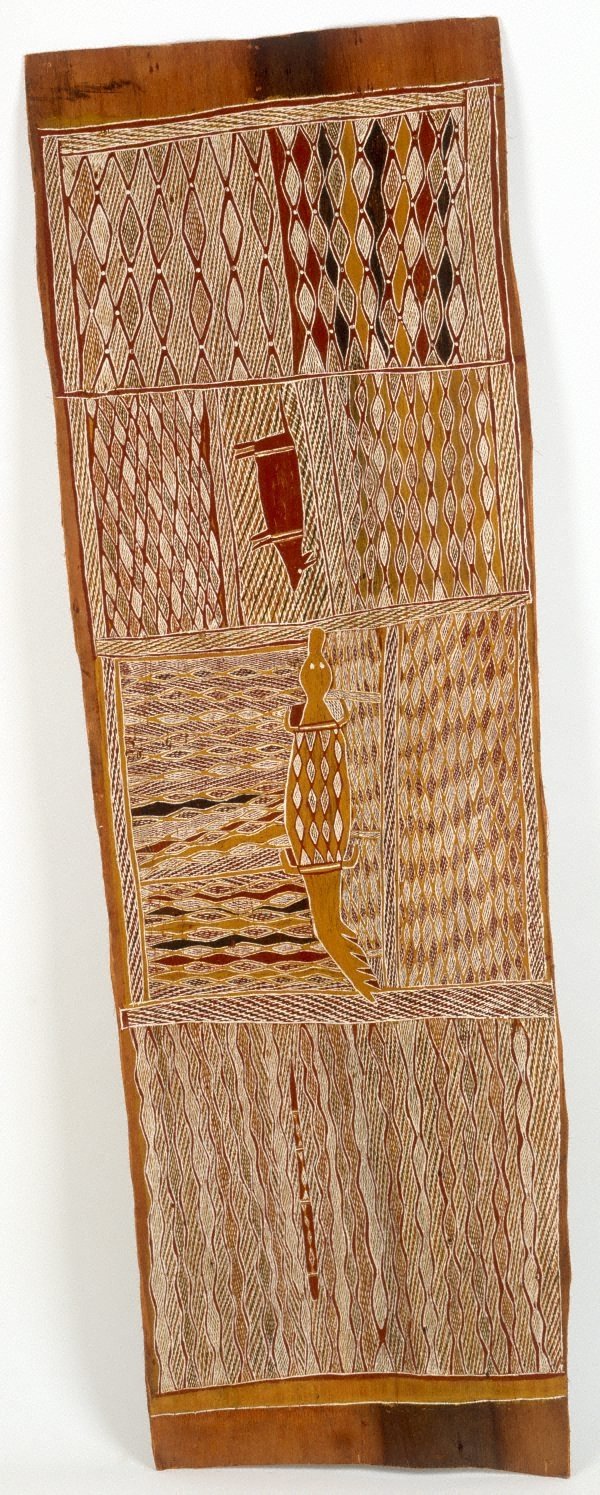 (Australia circa 1907 – 12 Apr 1979)
Community

Biranybirany (Caledon Bay), Arnhem region

Language group

Gumatj, Arnhem region
Lany'tjung story (Crocodile, Bandicoot, Fire Dreaming)
Other titles:

Laindjung story, myth no 4 - Crocodile, bandicoot, fire dreaming, Lany'tjung story, myth no 4 - Crocodile, bandicoot, fire dreaming, Lany'tjung story no 4 - Crocodile, Bandicoot, Fire Dreaming

Location

Further information

bottom: Mirgiwonnuru, a coastal location where the cliffs display different coloured pigments especially when it is raining. The coloured rocks greatly impressed the ancestors and they made it a sacred place. A decorated ceremonial digging stick for ritually digging pigments is shown.

lower centre: Badjidjbi Billabong, south of Caledon Bay. The crocodile Baru is shown with prominent scales on its back.

upper centre: The fire started at Wanabuy. A man named Guani'wani changed into a bandicoot during the fire and ran away.

top: The fire has burnt through the bush and grass and the glowing embers remain as shown by white dots linking the diamond shapes. Lany'tjung gave the name Gigawara to this locality and named other areas between Trial Bay and Caledon Bay.

The cross-hatching in this painting represents such aspects of the environment as lilies growing in the water, fresh water, the bandicoot's nest, the burning bush and an important aspect of the story, fire burning under water.

© Information provided by the artist

Australian Art Department, AGNSW, 2000

Place of origin

Year

1959

Media

Medium

natural pigments on bark

Dimensions

189.0 x 59.5 cm (irreg.)

Signature & date

Not signed. Not dated.

Credit

Gift of Dr Stuart Scougall 1959

Accession number

IA63.1959

Copyright

© Estate of Munggurrawuy Yunupingu. licensed by Viscopy, Sydney.